Day Centre Bard loves her weekly day out
Published on 28 November 2018 11:26 AM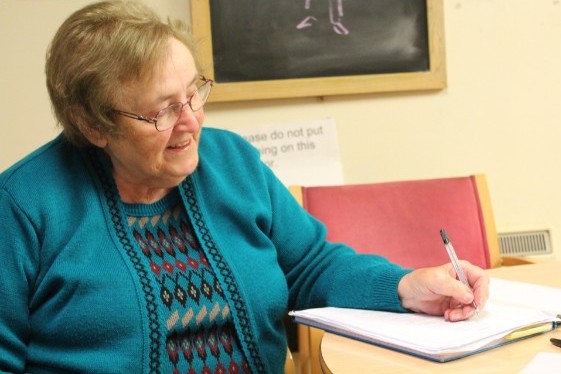 Friday is my fun day
The one and only day
That I go out and see
Others than just me
As we launch our No One Should Have No One Christmas campaign to combat loneliness among older people in B&NES, one member of our Day Centre in Bath has been so impressed with the service that she has been moved to verse.
Moreen Parker, 78, has been visiting the Day Centre for just over a year and says it has made a profound difference to her life. "What I enjoy most about the Day Centre is the company. Before I came to the Day Centre I was feeling isolated," Moreen says. "Now that my husband is unwell, I don't get out as he used to push me in my wheelchair. Also, my friends can no longer come to see me as they too are unwell."
Julia comes with her bus
Drives it well, takes care of us
Fiona greets us at the door
Smiles and says: "Welcome all."
New YouGov research for Age UK Nationally has found that almost a third of older people in the South West felt isolated (29 per cent) and one in four felt depressed (24 per cent)[i]. Here in B&NES many of the services we provide – from Befriending to social groups and activities, not to mention the Day Centres, help to combat loneliness and isolation.
Moreen's poem describes a typical day at St Michael's including the pleasure of eating a home-cooked meal. She and her husband rely on frozen ready meals at home. "What I've written in the poem is true," says Moreen. "The day centre has given me something to talk about other than my humdrum life."
After lunch we are entertained
Music is the name of the game
We sing songs old and new
Singing is so good for you
Her weekly visits to St Michael's have given Moreen a new focus to her to her time at home as well "I love to make up quizzes for the group during the rest of the week. It keeps my brain active. I would recommend the Day Centre to anyone."
Age UK B&NES CEO Janet Dabbs said: "I was really moved to read Moreen's poem and to be reminded about how our services make such an impact on people struggling with loneliness and isolation."
More cake and tea
The clock strikes three
The bus arrives to take us away
Hope to see you next Friday.
To read Moreen's poem in full, click here
---
[i] YouGov Plc Companionship survey for Age UK. Total sample size was 162 adults from the South West region. Fieldwork was undertaken between 21st August – 25th October 2018. The survey was carried out online. The figures have been weighted and are representative of all GB adults (aged 50+).