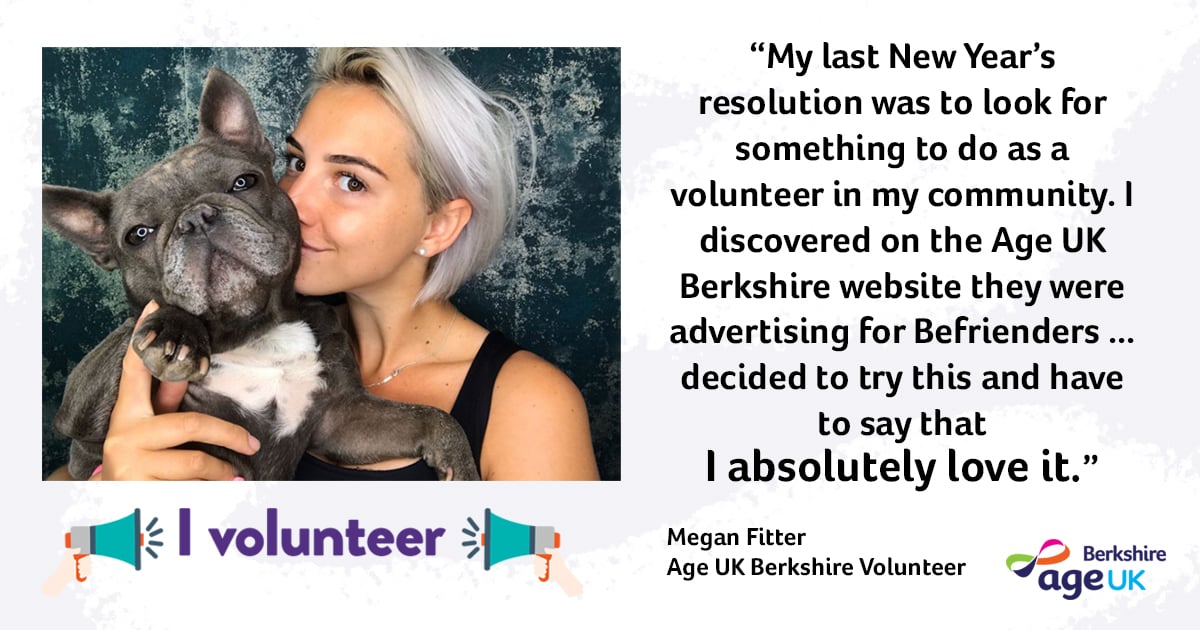 "My last New Year's resolution was to look for something to do as a volunteer in my community. I discovered on the Age UK Berkshire website that they were advertising for Befrienders to prevent loneliness for those that cannot get out of their homes on their own.
"I decided to try this and have to say that I absolutely love it. I visit a lady in her 50's who is housebound due to mobility issues. We get along so well and now that we are in lockdown and I cannot visit her for coffee, I take her dog for a walk. She really appreciates this and her dog is very important to her. I look forward to the time that I am able to go and have a coffee and a chat with her again."
Megan Fitter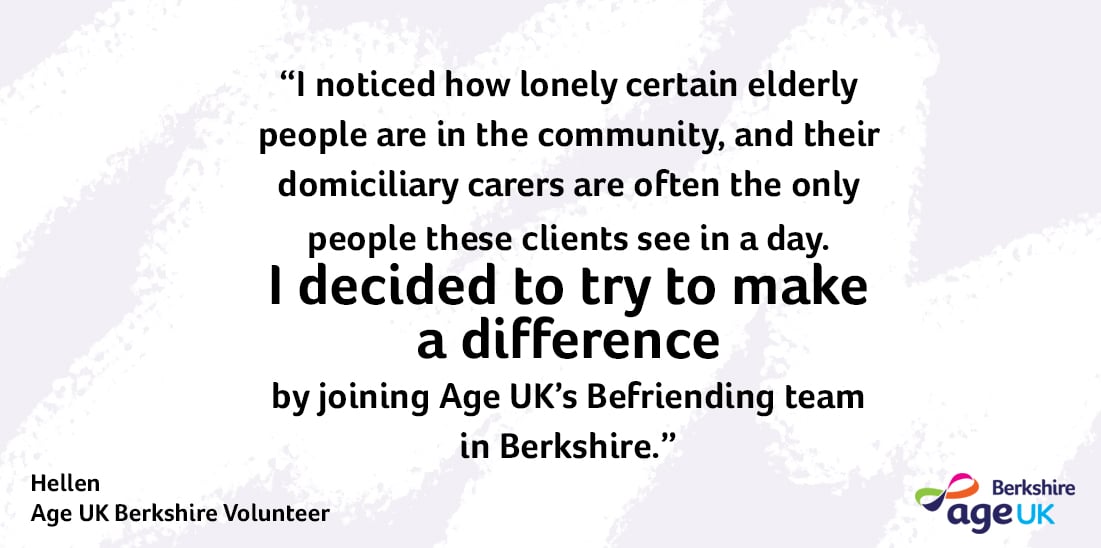 "Whilst out working, I noticed how lonely certain elderly people are in the community, and that their domiciliary carers are often the only people these clients see in a day. I decided to try to make a difference by joining Age UK's Befriending team in Berkshire."
I have been visiting a 96 year old lady. She only had her carers visiting her but now she has me as a friendly face too. Although she is living with dementia, she always recognises my face and is so happy to see me. She only sees her carers at the moment due to lockdown, but I am really looking forward to seeing her again when when this is over."
Hellen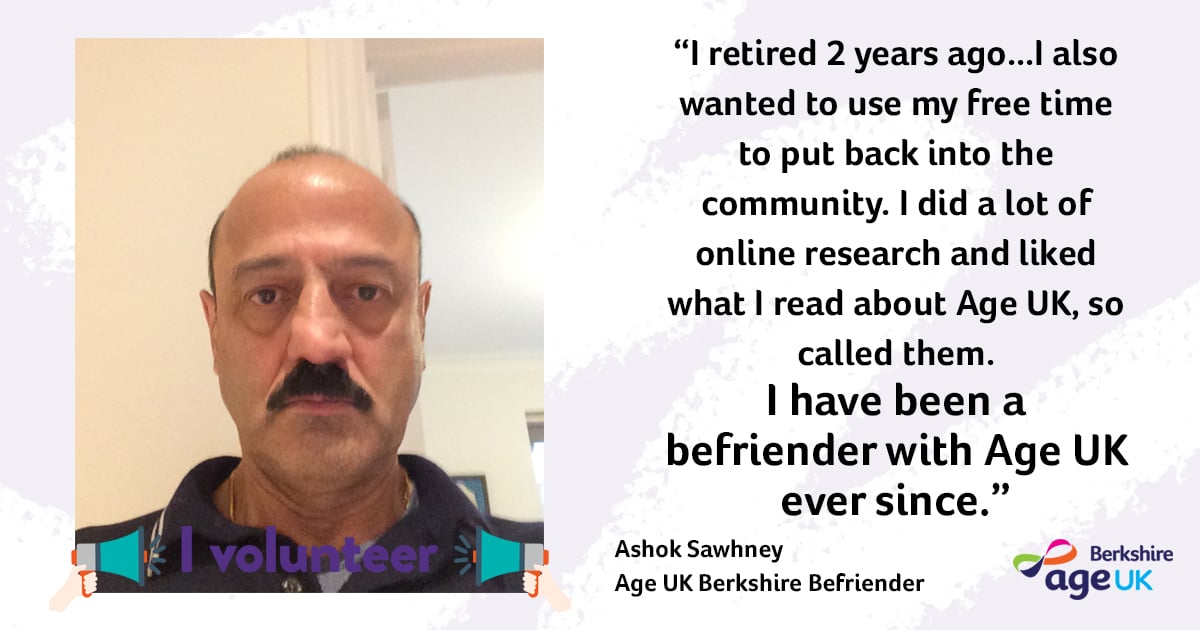 "I retired 2 years ago. I had always been really busy at work but decided that, although I was looking forward to a period of rest, I also wanted to use my free time to put back into the community. I did a lot of online research and liked what I read about Age UK, so called them. I have been a befriender with Age UK ever since."
I have 2 clients I usually visit, however, due to lockdown, we connect by telephone at the moment. My one client is a stroke survivor who comes from a similar work background to me so we have lots to talk about, when we are not playing a game of chess. My second client has early stage dementia and loves my visits. He is always pleased to see me."
I look forward to the time that we can get back to seeing each other again."
Ashok Sawhney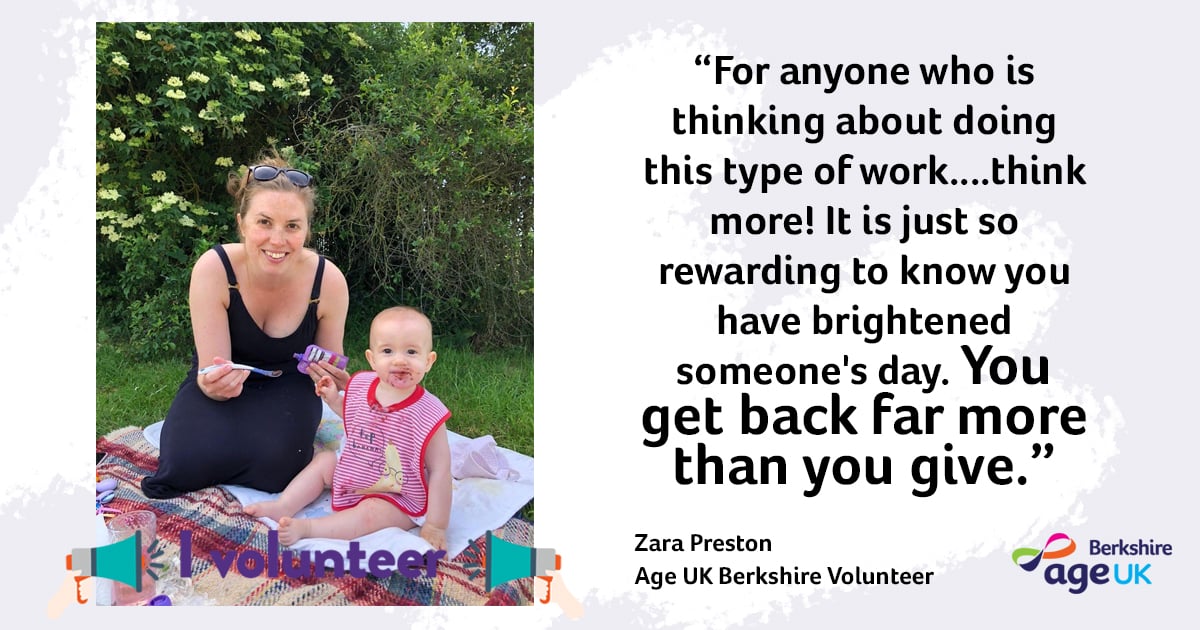 "I took maternity leave to have my baby and was looking for some way I could serve the community. I have found that the more I give in my teaching career, the more I get back. This is exactly what has happened with Befriending for me. The lady I have befriended cannot hear clearly over the telephone, so there is no point in calling her. I have written letters instead so that she knows I am thinking of her. I am waiting for her to write back to me now."
For anyone who is thinking about doing this type of work....think more! It is just so rewarding to know you have brightened someone's day. You get back far more than you give."
Zara Preston
Volunteer with us!
For more information about volunteering with Age UK Berkshire and how you can get involved, please click the button. Feel free to call us on 0118 959 4242 or email info@ageukberkshire.org.uk if you have any questions!