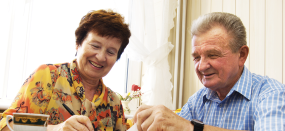 We offer you free, confidential and expert advice through our information service. If you need to know about social care, housing, scams or legal issues, we are here to help.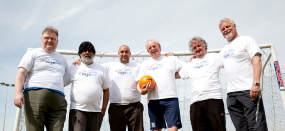 We provide a range of services including befriending, foot care, physical activity sessions and IT tuition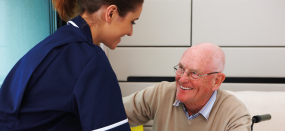 We provide specialist care for physically or mentally frail over 50s
News and information
Cadbury is joining forces with Age UK to fight loneliness

We're proud that Age UK is working with Cadbury to help draw attention to the 225,000 older people who often go a whole week without speaking to anyone.

Loneliness is a crisis in the UK. Being lonely affects your health, your wellbeing and the way you see yourself. It can make you feel invisible and forgotten.

Age UK and Cadbury have joined forces to do something about it. And we need your help. Could you donate your words and volunteer to visit and befriend someone who is lonely and isolated

Put on your Dancing Shoes

Join us for a vintage style tea dance on Tuesday 1st October at the Hawkshaw Suite, Masonic Lodge, Hawkshaw Ave, Darwen. Tickets are £5 and are on sale now at our King Street Office in Blackburn. Telephone 01254 266620

Our next remember the Rovers session is on Thursday 3rd October at 10.30am in the Jack Walker lounge, £1 admission, all welcome

Dementia Friendly Swimming Sessions

Join us for our new Dementia friendly swimming sessions in both Blackburn and Darwen Leisure Centres, starting week commencing 9th September. Ring Alison on 01254 266620 for details
Our quality marks

Age UK Blackburn with Darwen has achieved the Age UK Charity Quality Standard (CQS). The CQS is externally assessed by quality assessment experts, SGS.