How your organisation can get involved
Why partner with Age UK Blackburn with Darwen?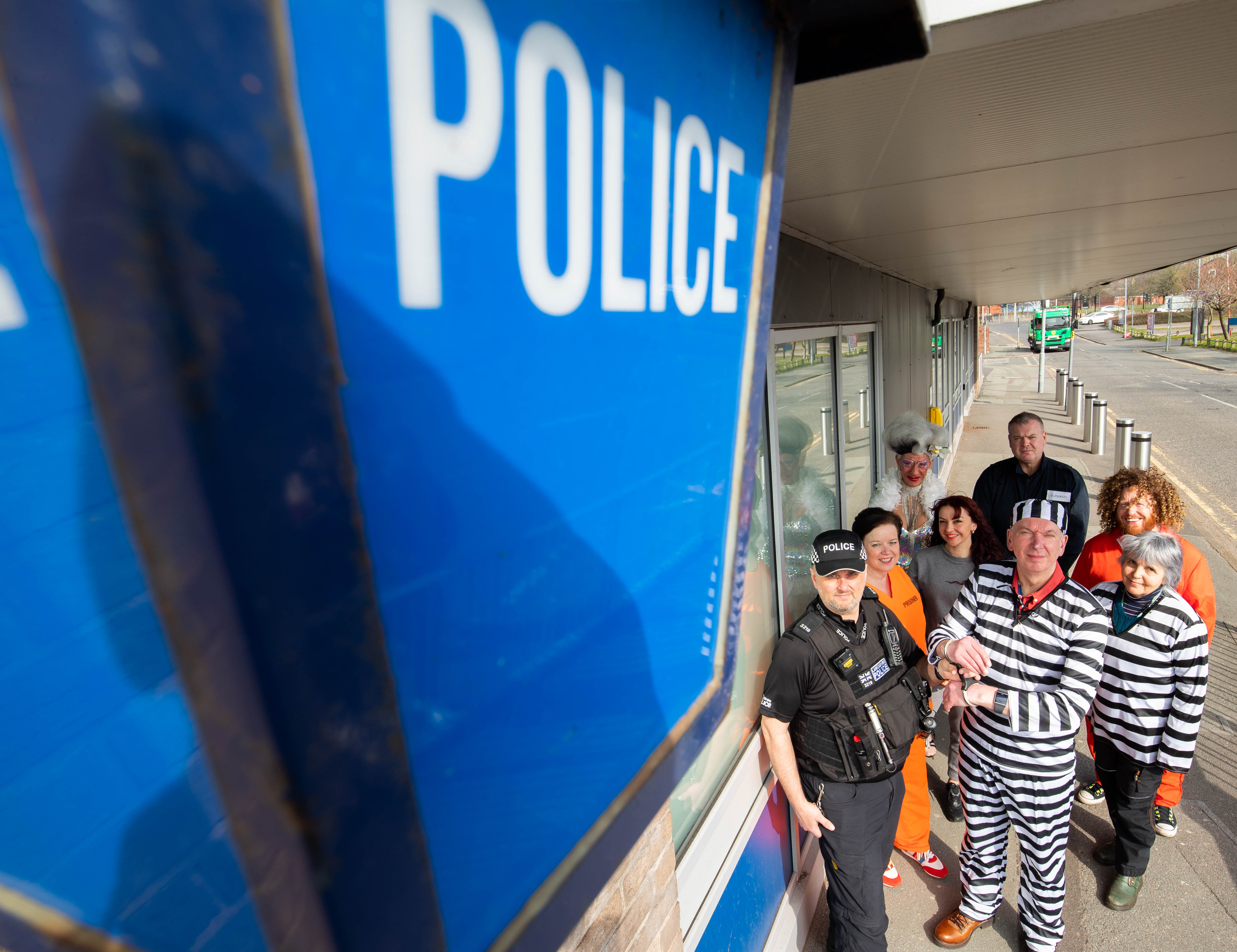 A partnership with us as a local charity can make a difference to the lives of local older people in Blackburn with Darwen. It's a great way to motivate employees, gain insight into your older customers and get some great PR.
By supporting Age UK Blackburn with Darwen or adopting us as your charity of the year, your business can gain real benefits in terms of public perception, positive publicity as well as helping to deliver your corporate social responsibility aims. The Covid - 19 pandemic has hit older people very hard, but as life returns to normality many older people will need us more than ever to help regain social confidence and in some cases mobility.
We will give you and your staff all the support you need and help you with fundraising ideas. You will have the satisfaction of knowing that all monies raised will be spent in locally in Blackburn with Darwen, helping us to continue providing services for local older people and their carers.
You could also help us with some employee volunteering, we are always keen to talk to businesses about how their employees could make a difference, helping at an event or maybe regular volunteering
You don't have to be a large business to make a difference. We are grateful for all support.
Contact Elaine Jennings on elaine.jennings@ageukbwd.org.uk for more information.
How can we get involved?
There are a number of ways your organisation can partner with us.
Choose local, choose Age UK Blackburn with Darwen as your Charity of the Year
Please consider choosing Age UK Blackburn with Darwen as your dedicated Charity of the Year. In return we would offer support with fundraising ideas, joint branding on our fundraising materials and our events, as well as positive PR and local media coverage.
Sponsor one of our events or one of our ongoing costs
Your staff could get involved in our events or activities thoughout the year such as our annual Jail and Bail event - who doesn't want to jai their MD! Or could you support us by sponsoring an annual report or by contributing to our utility costs? Every penny helps us to spend our income on service for older people.
Display a collection box
Could you have a collection box in your office or shop? Small change adds up and this would help us to collect much needed donations to continue our vital work in Blackburn and Darwen.
Donate a raffle prize or voucher or items for our charity shop
Could you donate a prize for one of our many fundraising raffles and competitions - vouchers for your business, bottles, merchandise, gifts etc. Good prizes help us to raise much needed income. If you have surplus stock that our charity shop could sell, we would be pleased to receive it
Sign up to payroll giving
Employees could sign up to payroll giving through our trusted provider Giveall2charity, contact us for more details
Send employees to volunteer
Could your staff help out at an event or activity or could you spare an employee to volunteer for an hour or so a week - maybe helping older people to get online? Previous staff teams have also helped in our charity shop and provided entertainment at a Christmas party
Run a fundraising event
Your employees could run their own fundraiser to help raise vital funds for our local work. Cake sale; hold a soup social fundraiser; a sponsored walk or run; volunteer to be jailed for the day; hold a dress down day, a sponsored walk or run, or a raffle. There's so many things they could do - contact us to get involved
For further information please contact Elaine Jennings, Head of Business Development
Phone: 01254 266620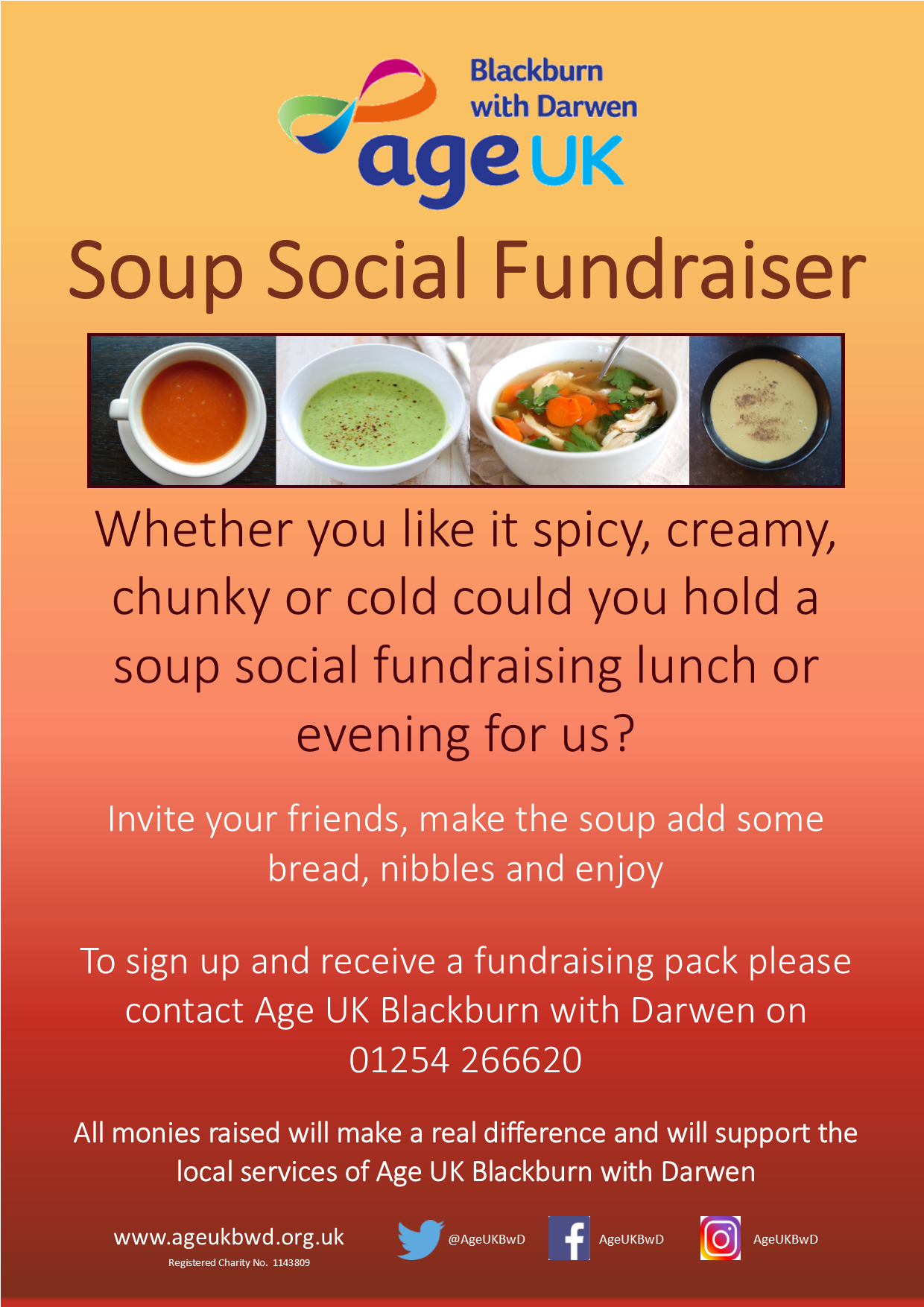 Could you hold a soup social fundraiser for us with friends and family or maybe work colleagues. We can provide posters/ recipes/ thank you cards or you can design or use your own.
Poster
Download your poster to use for your event - if you need us to personalise it for you let us know
Carrot and Coriander soup recipe
A little inspiration to get you started, if you need hard copies let us know and we can get them to you
Leek, bacon and potato soup
Another winter favourite to download and try - if you need a hard copy let us know