We offer a free and confidential advice and information service for older people, their families and carers. Don't wait until a problem gets out of hand, get in touch so we can help.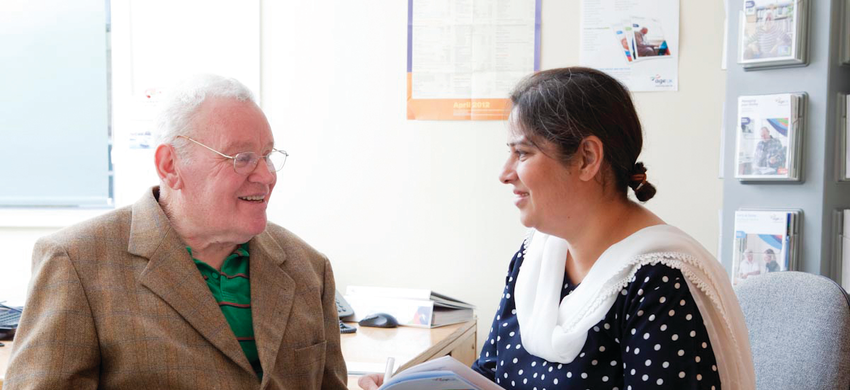 How to access the service
You can access our advice and information service in a number of ways.
By email: advice@ageukbwd.org.uk
By phone: 01254 266620
At our office: Book an appointment or drop-in to our offices in Blackburn Central Library or Darwen Town Hall
Opening times:
Our information and advice officers are available Monday to Friday:
4 King Street, Blackburn 10am to 4pm
Darwen Town Hall 9.30am to 1pm Mon, Tues, Thurs, Fri - closed Tuesday
Why choose us
Free
Confidential
Independent
Quality assured
Fully trained advisers to help you
We can provide home visits if required
Our advisers are trained to help you with a range of issues, including:
Benefits for pensioners
Pensions & other money issues
Debt
Housing
Care, health & support
Consumer issues
Information about other services
Form filling
Letter writing
Negotiating with third parties
Accessing information and services online
If you think we can help you, no matter how small the issue is, please contact us.
"I didn't understand the forms and it was stressful. You took the stress away and I got more benefit."
Outreach service
We offer a home visiting service for older people who are unable to come into our offices, providing advice and information in their own homes.
Money Advice Service
We also offer free, independent information sessions on a range of financial issues through the Money Advice Service.
Find advice on issues such as:
Pensions and retirement planning
Borrowing and credit
Budgeting
Tax
Savings and investments
Please contact our Blackburn office to access this service.
Free booklets and online information
Age UK produces free information guides and factsheets on a wide range of topics, including home adaptations, dementia, and advice for carers. You can find a complete list of guides and factsheets on the Age UK national website.

If you prefer to read information online, the Age UK national website has information and advice on many topics, including how to find a care home, how to avoid scams, and Power of Attorney.