Age UK Blackburn with Darwen offers a free and confidential advice and information service for older people, their families and carers.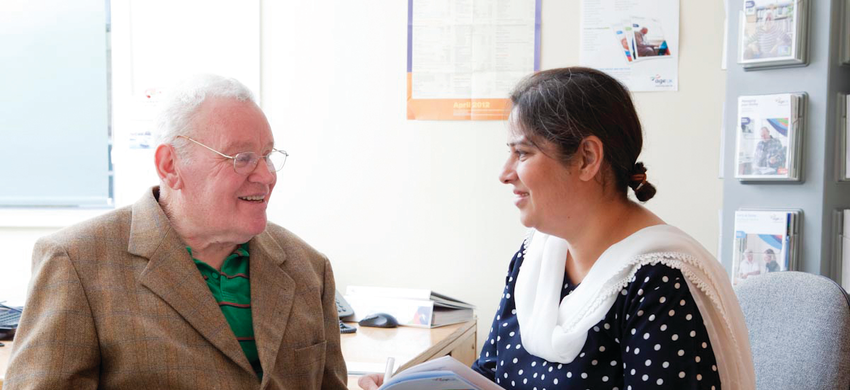 How to access the service
You can access our information and advice service in a number of ways.
By email: advice@ageukbwd.org.uk
By phone: 01254 266620
At our office: Book an appointment or drop-in to our offices in Blackburn Central Library or Darwen Town Hall
Opening times:
Our information and advice officers are available Monday to Friday:
Blackburn Central Library 10am to 4pm and in Darwen Town Hall 9.30am to 1pm
Topics we cover:
Our advisers are trained to help you on the following topics.
Social care - such as finding a care home or getting some help at home, and how it's funded.
Your income - including free benefits checks, help with applying for benefits and pension advice.
Your home - information on staying warm at home, home adapatations and how to prevent falls.
Legal issues - such as wills, Power of Attorney, and how to deal with an estate.
Our advisers are trained to help you with a range of issues, including:
Benefits
Pensions & other money issues
Debt
Housing
Care, health & support
Consumer issues
Information about other services
Form filling
Letter writing
Negotiating with third parties
If you think we can help you, no matter how small the issue is, please contact us.
Last year we dealt with 7318 enquiries and helped older people in the local area access £1,702,912 in unclaimed benefits. We can also help you!
Case study
Mr Ford's mother has developed dementia and is finding it very difficult to manage living on her own. Mr Ford has been caring for her when he is not at work but has found this increasingly hard.

Our advisor was able to go through all the options available for help and care with Mr Ford and his mother, and help them make an informed choice as to what the next step would be.
Outreach service
We offer a home visiting service for older people who are unable to come into our offices, providing advice and information in their own homes.
During the last year we have dealt with 2360 enquiries from people.
Money Advice Service
We also offer free, independent information sessions on a range of financial issues through the Money Advice Service.
Find advice on issues such as:
Pensions and retirement planning
Borrowing and credit
Budgeting
Tax
Savings and investments
Please contact our Blackburn office to access this service.
Free booklets and online information
Age UK produces free information guides and factsheets on a wide range of topics, including home adaptations, dementia, and advice for carers. You can find a complete list of guides and factsheets on the Age UK national website.

If you prefer to read information online, the Age UK national website has information and advice on many topics, including how to find a care home, how to avoid scams, and Power of Attorney.