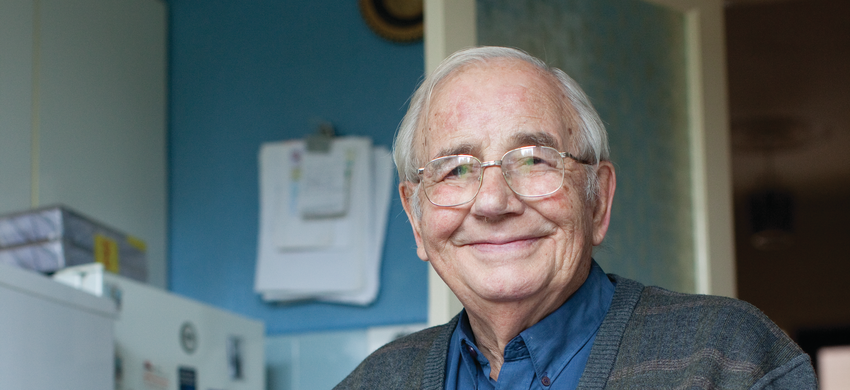 Last year, we helped over 12,500 older people across Buckinghamshire to improve their later life. Real people face real challenges, so we offer them real solutions. Here you can learn about just a few of the people who we have helped and see what they have to say.
Heather - Handyperson

Heather has been using one of Age UK Buckinghamshire's Handyperson service agents, Ian, to help her since she moved to Buckinghamshire after an accident at home.

"I moved to Buckinghamshire because I had a bad accident with my leg. I used to do all my own jobs, but after my accident I just couldn't do it anymore. So I called Age UK Buckinghamshire and they sent Ian to help me. This has been a huge help to me.

He came and had a look at what I needed, he helped put my curtains up and even helped install my new kitchen. My son constructed a book case and Ian fixed it to the wall and built some extra shelves for me. Ian always checks with me that he is doing the right thing and he is doing what I want him to do.

I think there are a lot of opportunities for trades people to take older people to the cleaners. You don't have to have Alzheimer's to be not on top of these things, they can be very clever. The Age UK Buckinghamshire agents who come and help, are completely trustworthy, because Age UK Buckinghamshire guarantees this, and that is quite something nowadays! It's important to feel safe, and I would encourage anybody who needs a bit of extra help, to just ask for it."

Mavis

Mavis uses Age UK Buckinghamshire's toe nail cutting service.Debbie is Mavis's footcare agent.

"Debbie has been visiting me for four or five years now.

My daughter used to do my feet years ago but she is so busy now, and I can't reach them and I don't see so well either. My eyesight has got worse over the years. If I didn't get my nails cut my mobility would be poor and stop me from doing things.

I'm always very relieved to see Debbie. It takes a lot of my mind, because I know I can get my nails done regularly. I don't use any other Age UK Buckinghashire services at the moment, but it's nice to know they are there if there is any real hassle.

We've had a lot of problems of late, but not to do with Age UK Buckinghamshire! To older people who are worried to ask for help, I would recommend them to make the call.

I'd be lost without Debbs now. She's like family! And we can have a chat while I get my nails done."
Ivor and Matt

Ivor and Matt have been meeting up as part of our Befriending service for over a year. We caught up with them to find out how they have found the Befriending service so far.

Ivor - Befriending Client

"I started using Befriending because I became ill. I'm a person who likes to be out and about doing things, and because I became ill I couldn't do that. I was confined to the house and I found that very hard work. Having to stay indoors, just waiting for time to go by basically.

I had never been on my own until my wife passed away five years ago. I think for older people being alone is one of the worst things you can get. It really is, because you've got no one. It gets to ten / eleven o'clock at night and you just want a chat with somebody.. and there's nobody there.

Matt arranged for us to go to the RAF museum and see the one Wellington Bomber that's left. We had a whale of a time, fantastic. I can never thank him enough for that. Usually we just have a chat... we do have a game of dominoes sometimes, he usually thrashes me.

I can only say, if you're on your own and you need some help, ask for it. Because there is help there, and unless you ask for it people don't know you need help. I can't thank Age UK Buckinghamshire enough for pushing me to accept a Befriender, because its the best thing I ever did"

Matt - Volunteer Befriender

"Most people assume that making a difference to someone else's life takes a lot of time and effort, however contributing something as simple as an hour or two a week to chat, have a laugh, play dominoes and set the world to rights is actually no effort at all."

"I feel very lucky to have been matched with Ivor, we are very similar , probably because of our uniformed backgrounds, him being a retired prison officer and me being in the RAF. When we meet its like just meeting any of my other friends, we have become good mates, so for me it has not been an experience that has changed anything."

"Befriending is a great scheme that has allowed me to connect with someone whom I would not have done so if I hadn't joined. It is an opportunity for me to see how easy it is to bridge the generation gap and give me perspective on my life. No matter how small and insignificant I feel my effort is, I know it means a lot to Ivor."

Brenda and Liz

Brenda - Befriending client

"I've been using the Befriending service for just over a year. I was getting help at the time because I was very down after loosing my husband and recovering from a cancer operation .

I was referred to Age UK Buckinghamshire, they phoned me up and asked me if I would like a Befriender and that's where my telephone Befriender Judith came in. I had a telephone Befriender first and then I got an in person Befriender which is where I met Liz. As soon as she came over we just hit it off! I've made a new friend and she has helped me an awful lot.

Judith said if for whatever reason the in person Befriender didn't work out, she would come back to me until I got a new one. So they never leave you alone, which is really lovely.

Without Befriending I think a lot of people would be so depressed. I really needed somebody."

Liz - Befriending volunteer

"Through speaking to people on the phone at my work, I realised there were a lot of people who are quite isolated or maybe a bit lonely. One day I saw a Befriending poster in the kitchen at work and I thought it would be a nice thing for me and also I would be doing someone else a nice turn.

We just chat away about everything normally. We have got quite a few interests in common, we both like Harry Potter so we bonded over that! We are great mates. It was just easy from the beginning! It's nice to feel that I have made a new friend and I'm doing something good."
Patt and Louise

Pat and Louise have been meeting up as part of our Befriending service. We caught up with them to find out how they have found the Befriending service so far.

Pat - Befriending client

"My husband died 13 years ago. I could get about more when I first moved here, but now I'm struggling because of my arthritis. My right foot is not good. I can manage in the house with my trolley, but I do struggle to make a meal because I struggle to stand.

It's exasperating when all your life you've been very active. I worked in the woollen mill as a mender. I had three children and worked a lot of different jobs, the last job I had was running as residential home in Halifax for 13 years.

When you see people, the day doesn't drag. Seeing Louise has made a big difference, because you get to talk about younger things. It just breaks the ice.

I would certainly recommend befriending, it's very good. It's only an hour plus a week but its very good."

Louise – Befriending volunteer

"I'd lived on my own for a few years previously, so I knew what loneliness could be like. I'm fortunate because I can get out and about and have a good social life. I'm not trapped in my home like a lot of older people are.

I saw an advert for Befriending and thought, that's something that I can do. I come to visit Pat once a week on a Thursday afternoon and I normally stay for about an hour to two hours. Pat always kindly offers me a cup of tea and I eat a lot of her biscuits! We just catch up on what's happened over the week. Our conversations get deeper as time goes on, we are definitely forming a stronger relationship.

I've always enjoyed older peoples company. All my grandparents have passed away now so it does fill a void for me I think, having that interaction with an older generation as well. There are a lot of older people that need services from Age UK Buckinghamshire that might seem quite small to us in terms of everyday needs. But for that person it can make a huge difference.

It can be flexible with the timings; all you're really doing is coming and having a conversation with someone, you're not having to put a lot of effort into it. And you both get so much out of it as well."


Basil

"Because of my hip operations, I can't get down to cut my toenails anymore. My friend Fred recommended Age UK Bucks to me. The foot care lady came along and she's a very pleasant lady and does a very good job.

I've had eight hip replacements... I've actually had three lots when I've not had hips at all! The last one I was 15 weeks in bed without a hip. Fred would come and visit me, and anything that I needed, Age UK Bucks would go out of their way to try and help me.

I find it's just like having another friend in the family. They come and have a cuppa, ask you what your problems are, probably here about half an hour. Hopefully then the problem gets solved. They are really there to help you, so why put yourself in a mess. When you can have one phone call, someone will come and see you and 9 out of 10 that problem will go away.

Now that I'm getting older, I find that you have to bite the bullet and accept help. You have to say, right, I'll get some help and it will make my life so much better!

The population is getting a lot older, so we really need charities like that Age UK Bucks because they will make your quality of life just so much better. For me, it's been life changing."