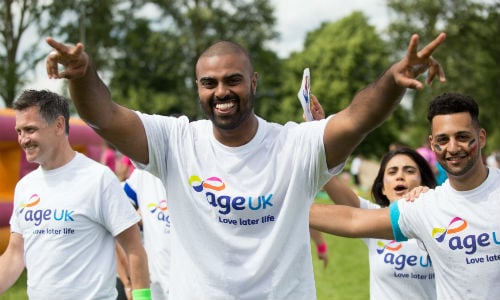 Help older people across Buckinghamshire by fundraising for our community services

Would you like to help fundraise for us but are unsure what to do?
Get some inspiration and help raise funds for our vital services. The easiest way to do this is to use JustGiving to collect funds.
It is a secure, quick and easy website to use and set up fundraisers and makes it very simple for others to donate.
Whether you are jumping out of a plane or hosting a bake sale, you can easily fundraise for us on JustGiving.
Fundraising ideas:
Bake sale, Car wash, Book sale, Film night, Busking, Coffee morning, Darts match, Sponsored silence, Jumble sale, Dinner party, Sponsored skydive, Obstacle course event, Quiz night, Running event, Bungee jump, Host a talent show, Bingo night, Walkathon, Hold a raffle, A "give it up" fundraiser, Afternoon tea, Beard shaving, Fancy dress day, Karaoke night, sponsored dog walk.
Every donation you make will help us to provide essential services to older people living in Buckinghamshire

A partnership with us could be beneficial for your business by helping you meet your corporate social responsibility objectives