Volunteering opportunities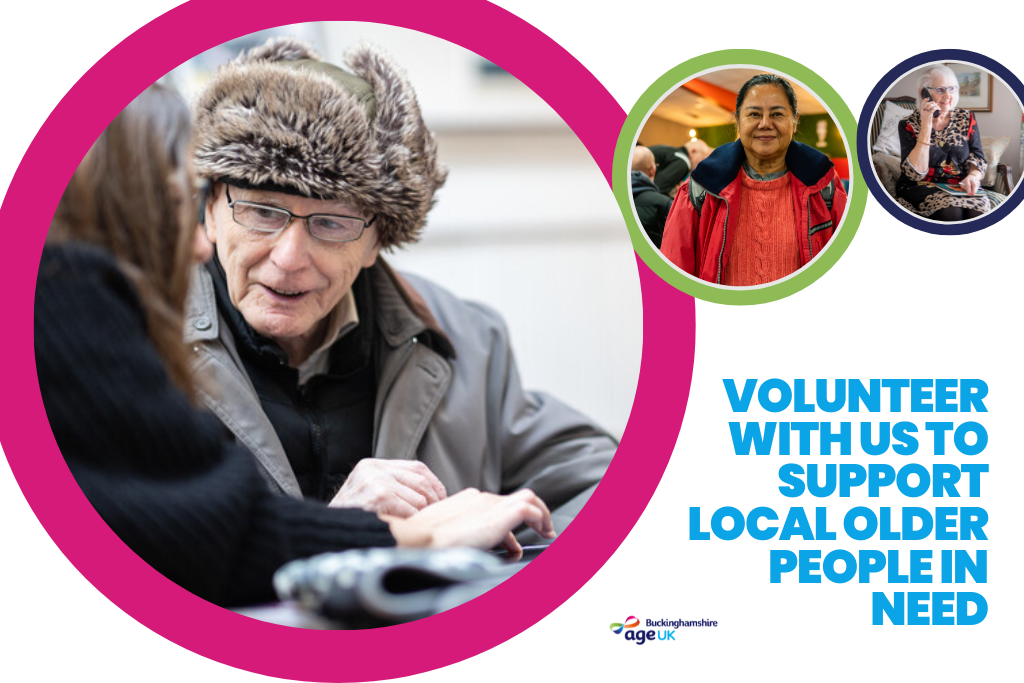 Volunteer for us!
Could you visit or call a lonely older person? Help us fight loneliness in Buckinghamshire by becoming a befriender. You'll be matched with an isolated older person and visit them every week to provide company. This is avital service helping to alleviate loneliness and isolation in older people in your local community.



Help older people to claim their welfare rights by establishing entitlements, maximising their income and assisting with claims. One-to-one home visiting service. We are especially looking for volunteers who can support older people in the Aylesbury area.


Help make a difference to the older people of Buckinghamshire and join our Hospital Discharge Service as a volunteer!


We have a plethora of volunteering opportunities available in I&A, marketing and social media, general admin and support. Volunteer support, marketing and fundraising.
Most of Age UK Buckinghamshire's services rely on the time, loyalty and commitment given by hundreds of volunteers throughout the county. Our volunteers are absolutely invaluable and are the key to our success. Take a look at the volunteering opportunities we have on offer below, and if any of them sound right for you, send us an application form.
Why volunteer?
Volunteering is a great way to meet new people, learn new skills, and support the work we do in the community.
Who can volunteer?
Almost anyone can be a volunteer. We have a wide range of roles which suit different people and different skills.
How much time do I need to give?
It depends on the volunteer role you are interested in. Some people give an hour a week, other people do more.