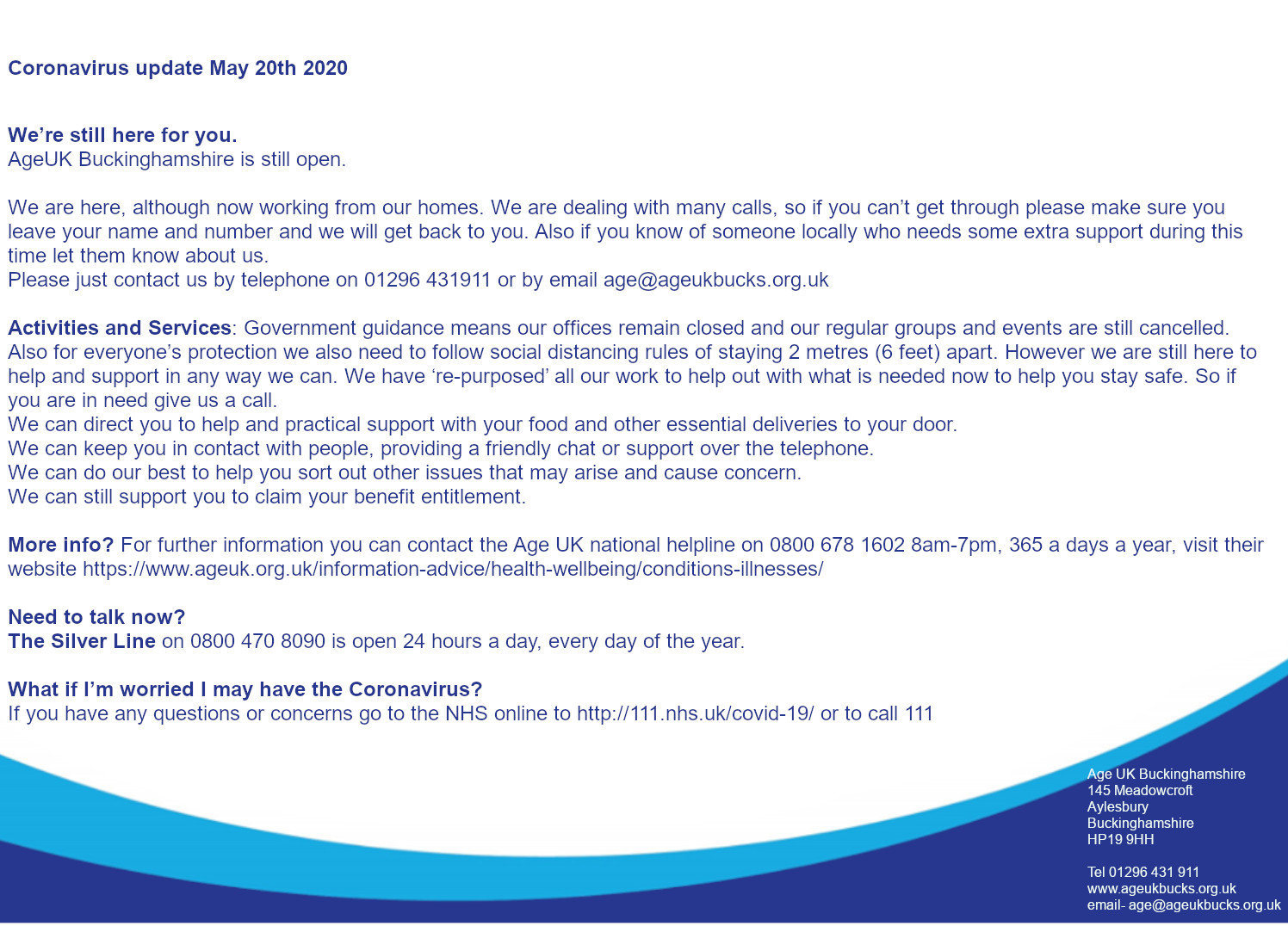 Coronavirus (COVID-19) Update – Monday 23rd March 2020
Is Age UK Buckinghamshire open? We are here for you. We are dealing with a very high number of calls, but if you can't get through to us, please leave your name and number and we will get back to you as soon as possible. Please be patient, we are aiming to get back to people within 24 hours, even if the call is just a quick one to say we have heard you- we got your call- we have your number and we will be back further. We can also be contacted by e-mail at age@ageukbucks.org.uk. Alternatively, you can contact us through our Facebook page https://www.facebook.com/ageukbucks
Will Age Uk staff and volunteers be able to visit me at home? Following Government advice, we have cancelled all home visits for the foreseeable future. If you need to contact local people who are offering practical help e.g. shopping, collection prescriptions etc. in order to help older people who are in social isolation please look on our webpage or telephone us if you do not have access to the internet.
Will Age UK Bucks Office be open? The public office on Meadowcroft is now closed. However our First Contact Team are still working and you can leave a message with them on 01296 431911. Whilst we are closed to visitors, we are working with everybody in different ways to protect and shield our older people through this global crisis.
For further information you can contact the national Age UK Helpline on 0800 678 1602 lines are open 8.00am to 7pm 365 days per year or visit their website https://www.ageuk.org/information-advice/health-wellbeing/conditions-illness/coronavirus/
What if I am worried if I may have the virus ? The best thing to do if you have any questions or concerns is to go online to https://.nhs.uk/covid-19/ or to call 111 to get information from the NHS.
Thank you for your support and patience through this difficult time