We support Age UK nationally to influence decision-makers on issues that affect older people, such as our underfunded care and support system, our cold homes, and loneliness.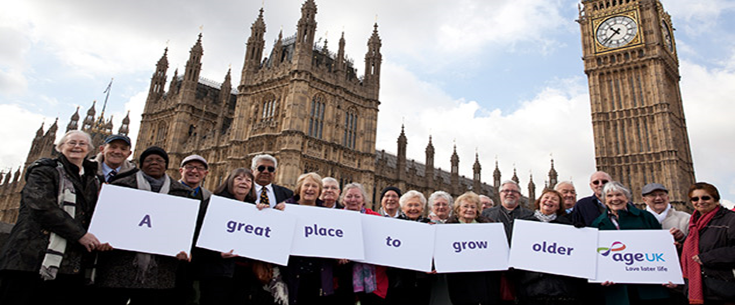 There are two strands to our national campaigning activity: direct calls for changes in law and policy; and campaigning to the public to influence the behaviours and attitudes of older people.

Age UK focus our campaigning where we believe we can achieve the greatest change. We recognise that we are most likely to be successful if we create a strong network of campaigners; if we focus on a few campaigns at a time; and if we listen carefully to older people and give them lots of opportunities to speak out about the campaigns that matter to them.
What you can do
There are many ways in which you can get involved in our campaigns, from providing a case study to sending a letter to your local MP. Here are just a few of them.
1. Tell us your story
Do you have a story that you could share with us? For a chat, get in touch by writing, emailing or phoning us. All stories will be treated sensitively and will never be used without your prior consent.

2. Send a report, postcard or template letter
Writing to your local MP, councillor, health authority or newspaper can be an excellent way of engaging them with our campaigns. We'll provide you with all the information, materials and contact details that you need.

3. Tell your friends about our campaigns
Why not spread the word about our campaigns? We depend on your involvement for our success.
4. Sign a petition or attend a lobby
Signing a petition and/ or attending a lobby can be an effective way to campaign.
Sign up to our newsletter
Sign up to the Age UK Calderdale and Kirklees newsletter to keep up-to-date with national campaigns and what is going on locally.