Information and help for people living with dementia and their carers.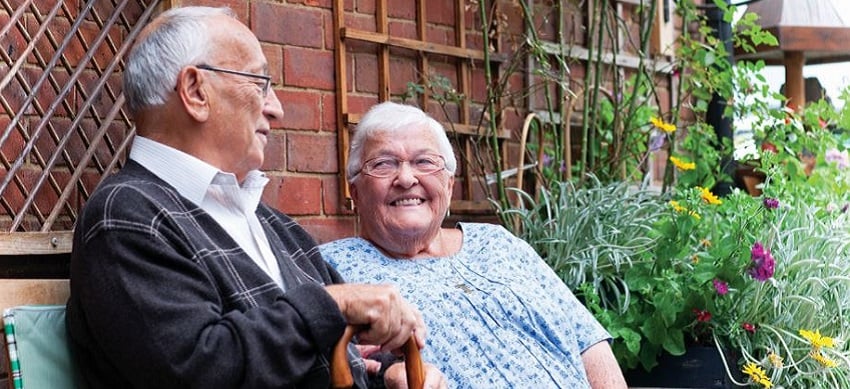 Diagnosis of Dementia
Getting a diagnosis of dementia can be a difficult and upsetting time for both patients and carers. However there is a lot you can do in the early stages to make life easier and more normal.
We can help by providing information and advice, practical help at home and days out at our companionship centres.
Contact us
For more information call us on either 01422 252 040 or 01484 535 994. Alternatively you can send us an email.
Kirklees Dementia Hub
About the service
The Kirklees Dementia Hub is a partnership between Community Links and Age UK Calderdale & Kirklees and offers Information and Advice sessions within the local community for adults of any age that have recently received a diagnosis of dementia and for people caring for someone living with dementia.
The Kirklees Dementia Hub Information and Advice Line operates Monday-Friday 9am-5pm and can offer information and advice on living well throughout the Dementia journey as well as signposting to further support in the community.
Kirklees Information and Advice Line on 01484 503 908
Aims of the service
The aim is to ensure people within the Kirklees community have access to a wide range of Dementia information and advice and community awareness raising events.
The Kirklees Dementia Hub delivers information & advice sessions for individuals living with dementia and their carers . These cover topics such as:
• What dementia is and is not
• Finance – including Lasting Power of Attorney
• Medication
• Physical activity and healthy eating
• Housing
Download the Kirklees Dementia Hub leaflet
Referrals
Referrals can be made for individuals of any age, who have been newly diagnosed with Dementia. You can contact us and refer yourself or referrals can be made through the SWYPFT Memory Service or your GP, using this Referral Form.
Download the Kirklees Dementia Hub Referrals leaflet
To find out more please contact the Hub Coordinator on 01484 411 074.
The Service will be available during 'core' hours (37 hours per week) from Monday to Friday of each week, with the exception of recognised Public holidays and will be supported by an office hours telephone advice line.

The Kirklees Dementia Hub is based with Age UK Calderdale and Kirklees at 12 New Street, Huddersfield, West Yorkshire HD1 2AR. Tel:01484 535 994 and you can visit the Kirklees Dementia Hub webpage on the Community Links site.
Calderdale Dementia Services
Dementia services in Calderdale are provided by the Alzheimer's Society. Find out more on their website www.alzheimers.org.uk
The Dementia Adviser service offers information about all aspects of living with dementia and supports you to access services. People with dementia, their carers or people who are worried about their memory can contact our dementia advisers whenever they need further information or support to find other services.
The dementia support workers offer information and practical guidance to help you understand dementia, cope with day-to-day challenges and prepare for the future. They offer information to people who are worried about their memory and ongoing support to people affected by dementia face to face, over the phone or in writing.
Contact them on 01422 352789 or email: c&k.services@alzheimers.org.uk
Other support from Age UK Calderdale and Kirklees
Information and advice
We can provide information and advice about local support services, benefit entitlements, aids and adaptations for your home and legal and financial issues.
You can also pick up a copy of our information booklets from our shops or download them from the Age UK website
Help at home
We provide practical services to help those who are struggling to stay independent and to free up time and energy for carers.
Companionship days
A day out once a week at one of our Companionship centres can provide friendship and new activities for people living with dementia and a welcome break from caring responsibilities for loved ones.
The Herbert Protocol
The Herbert Protocol is a national scheme that encourages carers, family and friends to provide and put together useful information on a single form, which can then be used in the event of a vulnerable person going missing. Kirklees Dementia Action Alliance is promoting the protocol across Kirklees with the support of West Yorkshire Police, Age UK C&K and other agencies.
Download the Herbert Protocol Form
Physical Activity and Dementia
There is increasing research indicating that taking part in physical activity can reduce your risk of developing dementia and if you have received a diagnosis, exercise can improve wellbeing for both you and your carer.
Kirklees Active Leisure offer swimming sessions with specially trained staff on hand who have an understanding of dementia. They also offer Sporting Memories reminiscence sessions for people living with dementia and their carers to come together to remember sporting triumphs (or disasters!) of their own or their teams.
In addition, they offer lots of classes and sessions suitable for people aged 50+ including Mature Movers, OWLS, Walking Football and Tai chi to name a few. You can find out where and when at their website www.kal.org.uk
Steps for Life is an exercise referral programme for people living with dementia and provides support, motivation and advice with a chance to try out a range of activities and enjoy the social side of meeting other people.
Who is it for?
The scheme is for inactive people who have early onset dementia and are a resident in Kirklees.
For more information call 01484 237097 or email stepsforlife@kirklees.gov.uk
Everybody Active is a new website that aims to get Kirklees moving. It gives:
• step-by-step guidance
• help to set realistic goals
• easy-to-use tools
• ideas and tips for activities
It's never too late to start an active life! So why not visit the website and take the first steps to a healthier and happier you! The site will let you:
• find out how active you are
• create a free profile to access tools, skills and tips to increase your activity level
Calderdale Sports Centres offer classes and sessions suitable for older people including Gentle Keep Fit, Zumba Gold and Pilates. Find out more on their website www.calderdale.gov.uk/v2/sports-and-fitness
Other dementia support organisations
There is lots of support for people living with dementia and their carers across Calderdale and Kirklees, plus activities such as 'dementia cafes' and 'singing for the brain'. See the list below some of the key support organisations.