Maintenance Cognitive Stimulation Therapy (MCST)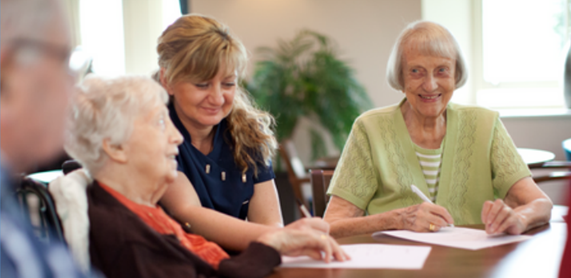 Specifically recommended to improve cognition, independence and wellbeing for individuals living with mild to moderate dementia.
We are offering MCST in small groups to those who need Dementia support.
Each session will include a range of creative and musical activities, topical discussions, physical activities, quizzes and word/number games.
Sessions will run for 2 hours, with an introduction of welcome refreshments followed by approximately 45 minutes of activity and then finishing on some social time with others attending.
All sessions are carried out by Maintenance Cognitive Stimulation Therapy (MCST) trained staff.
Sessions:
Thursday morning in Huddersfield—Sundale House, 44 Keldregate, Bradley, Huddersfield HD2 1SY
Wednesday morning in Halifax—Rimani House, 14-16 Hall St, Halifax HX1 5BD
FAQ's
What is MCST?
Maintenance Cognitive Stimulation Therapy (MCST) is a group treatment for people with mild to moderate dementia. MCST is recommended as a treatment for people with dementia by the National Institute for Health and Clinical Excellence (NICE)
Who are the group facilitators?
Teresa Collins – Calderdale
Julie Taylor – Kirklees
There will also be a member of the day care team supporting each group and we are currently recruiting a volunteer to help at sessions.
How many people will be in each group?
The group will be between 6 and 10 people.
Where are the sessions being run?
Operational from Rimani House (Halifax) and Sundale House (Huddersfield).
When are they going to run?
The group at Rimani will meet on a Wednesday morning between 10.30 and 12.30
The group at Sundale will meet on a Thursday morning between 10.30 and 12.30
What kind of activities will the group be undertaking?
This will vary each week, but typical activities include letter writing, crafts, singing, colouring/arts.
How much does it cost?
Each session costs £20, and includes refreshments (hot or cold drink and biscuit/cake) and all the materials to participate in the activity.
If a weekly standing order is set up, or the client prepays a block of 4 sessions, we offer a discount of £19 per session.
Booking a place
Anyone interested in attending the group will be invited into the centre to meet Teresa or Julie and have the opportunity to discuss with them (and their carer) what happens at the group.
How do we pay for the appointment?
Bank Transfer, Cheque, cash, or card payments are accepted; or weekly standing order (note a standing order is where the person paying sets it up with their own bank account, we are not accepting direct debit payments for this service).