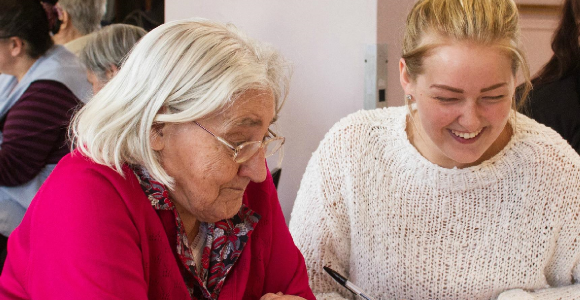 Age UK Doncaster relies on volunteers to help us offer vital services in the local community. Would you like to lend a hand?
We have been working with volunteers since we first began over 30 years ago. In that time we have worked with volunteers from almost every walk of life and who chosen to volunteer for a vast range of reasons. Volunteers are a vital part of our workforce. Without these fantastic individuals a number of our services would not be able to exist.
Why Volunteer
Volunteering can be one of the most rewarding things you can do. By giving your time to your local community through our services, you can make a huge difference to the wellbeing of some of Doncaster most vulnerable people. Along with the sense of knowing you are making a difference in your community there are other, more tangible benefits to volunteering:
Meet new people
Enhance your CV
Learn new skills
gain new experiences
The Institute for Volunteering Research have found that volunteering can improve your mental heath by reducing stress levels and depression. Volunteering can also improve your self-esteem and keep you fit! Find out more about the benefits of volunteering here
...and, most importantly volunteering can be fun!
What you get from us
Full Training: No prior experience in neccessary when applying for a volunteer role. We provide full training for all volunteer opportunties. Some roles will require you to attend our full induction course while other roles require a shorter course. More details can be found in the descriptions for each role.
Full Support of Staff: As a volunteer with us you will receive the full support of the Volunteer Coordinator as well as all the staff in the department you will be working with.
Expenses Paid: We will cover all out of pocket expences for volunteers including mileage. We get enough from our volunteers, it's only fair we give something back.
Finding the perfect role for you
While the traditional way of recruiting volunteers would mean volunteers choosing a role and staying with that service or project until you decide to stop volunteering, we are looking to match volunteers to the people you will be supporting as individuals. We match volunteers and service users based on hobbies, skills, interests, availability and area. We believe that this personalised way of recruiting will offer volunteers a more engaging experience and allow for all our services to benefit from a greater pool of talent.
Helping Hands Volunteer
Keeping in Touch Volunteer