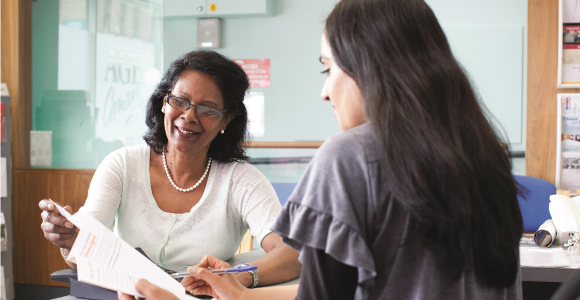 Our Information and Advice team can help you with a range of issues including;

Welfare Benefits
Money Matters
Social Inclusion
Care and Support
Health and Wellbeing
Based in Doncaster town centre our Information and Advice office is ideally suited for pop-in visits.
Since the beginning of June this year we have helped to generate in excess of half a million pounds in additional benefits with the average household increase being £3,688 per annum. This is due to the funding support for this service received from the National Lottery Community Fund and the Henry Smith Charitable Trust.
Case Study
Sylvia's story:
Case profile: Sylvia
Sylvia called into Age UK Doncaster office as she was having problems with her cooker not working. She told the advisor that she could not afford a new cooker or pay for somebody to come and have a look at it. Sylvia had got herself into a bit of a mess financially as she was paying out for a funeral plan that was leaving her very short of money.
The Advisor told Sylvia about a possible grant that might be available from Friends for the Elderly. They completed the form and sent it off, a few weeks later the charity contacted Age UK Doncaster to confirm that they would be supplying Sylvia with a new cooker, installing it and disposing of the old one.
The advisor followed up with Sylvia to see how she was getting on and although she was thrilled with the cooker, she was still very worried about her finances. The advisor looked at the funeral plan and discovered that she was actually paying out on 3 separate plans which was unnecessary. With Syliva's permission the advisor contacted the companies and one of the plans was cancelled and all the premiums refunded which was a total of £2400, and a saving of over £90 per month.
Sylvia was very happy with the outcome:
"it was such a relief, I was worried sick about how I was going to manage"
"Thank goodness I called in on the off chance"
Age UK Doncaster
19 Priory Place
Doncaster
DN1 1BZ
For more information, contact the office directly on 01302 811174