Age UK Ealing says THANK YOU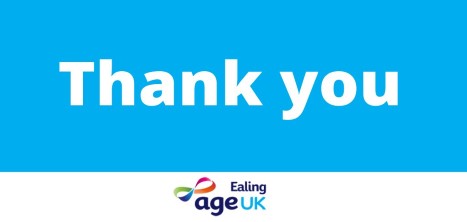 Published on 11 January 2021 04:00 PM
Six months ago, when we closed the doors of our Information and Advice Centre, our Day Centre, our offices and Greenford Community Centre, little did we know the true extent of the damage the coronavirus would cause to our country, to our community and to our charity.
At just the moment that older people in our community needed us the most, we were suddenly unable to support them in the best way we knew how – in person, with a warm smile and a hot cup of tea. We also began to face a significant financial crisis brought on by the lockdown.
We quickly adapted our services to begin to support people at home, keeping them company on the phone, answering their queries and connecting them with additional support such as food and medication. We would also like to thank Greenford Quay for their donations of food parcels, and a huge thank you to PearDrops Company, Garden Nursery Acton and Ealing Community Transport for ensuring we were able to get hot meals to people across the borough at the height of the lockdown.
In April we launched our coronavirus emergency appeal and, with an awful lot of help from our friends at St Paul's Church Ealing and "Life on the Run" who took on the 2.6 challenge in place of the London Marathon, we raised £6,500 to support the interim efforts in getting food and medication support to those who needed it. We would like to give our sincere thanks to everyone who donated, who sponsored the Life on the Run team, or who helped to spread the word amongst friends and family.
Unfortunately, despite all of this help, with the continuing restrictions on our buildings and services Age UK Ealing is facing significant losses for the current financial year. And so, during the past six months we have also been busily applying for emergency and recovery funding to make sure that we can continue to support people through this crisis and still be here to reopen our doors when it is possible next year.
We are delighted to report that to date we have secured extremely generous grant support from the following funders:
The Government Coronavirus Community Support Fund, distributed by The National Lottery Community Fund; London Community Response Fund; Age UK national; Ealing Council; City Bridge Trust; Shanly Foundation; A2Dominion; Pathways Housing
Thanks to this funding, we are able to continue to support our service users at home, through our expanded befriending scheme and through our telephone-based Information and Advice Service.
It is set to be a long winter ahead with continuing social distancing measures, more restrictions coming back in, and more work for us to do to keep people safe, well and supported at home. Our work continues too in finding more sources of funding to ensure that next year we will be able to reopen fully and to welcome people back to Greenford Community Centre and to the variety of activities we normally offer to the older people in our community.
We would like to take this opportunity to thank our partners, volunteers and staff for their dedication and hard work throughout this crisis, and to say another thank you to our members and supporters for their contributions.
If you would like to make a donation to Age UK Ealing please click here:Donate