Age UK East Sussex Launches New Healthy Living Club in Hampden Park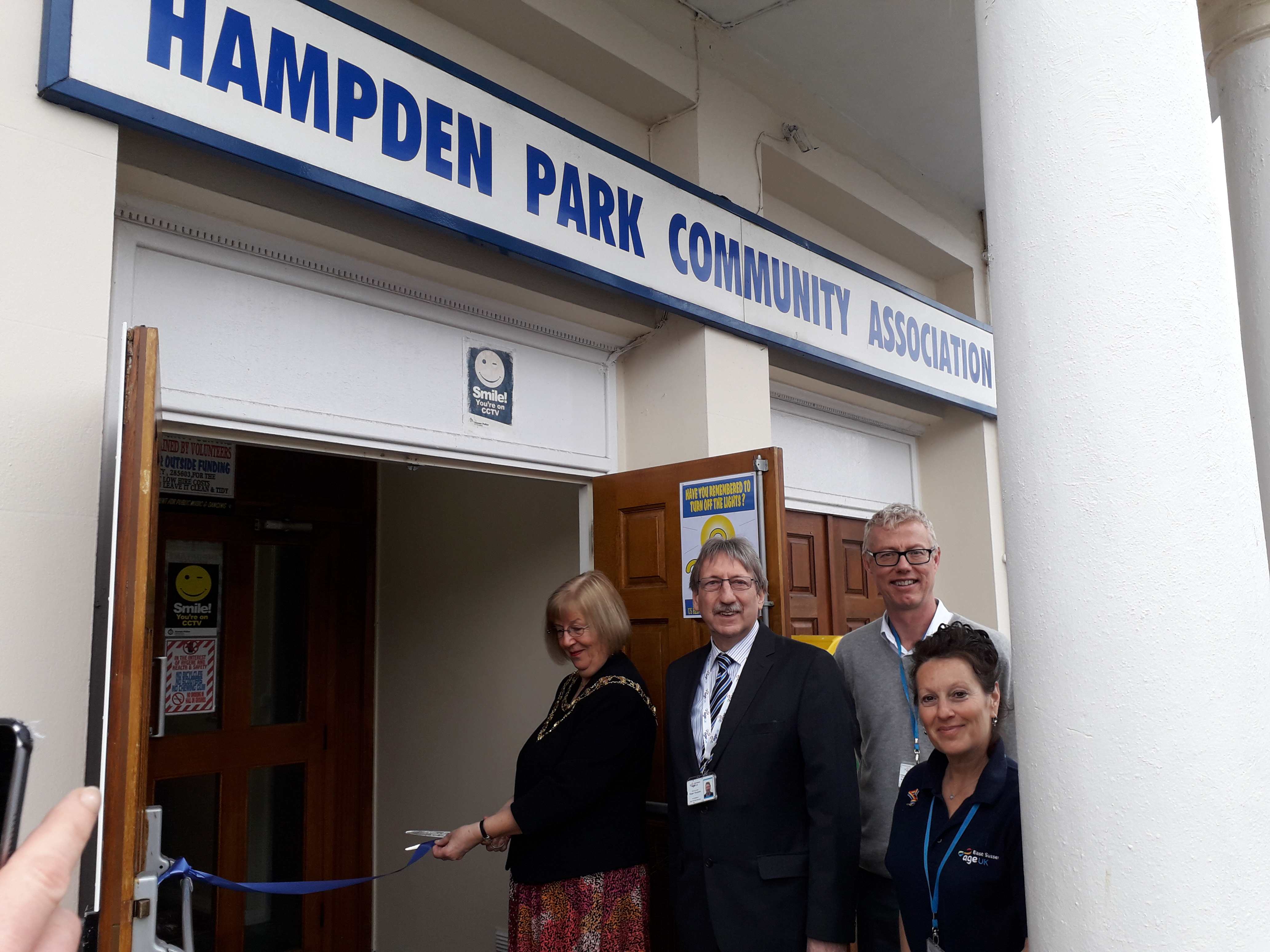 Published on 15 April 2019 11:32 AM
On 9th of April 2019, the Worshipful the Mayor of Eastbourne Councillor Gill Mattock officially opened the new Age UK East Sussex Healthy Living Club at the Hampden Park Community Association, to celebrate the launch of this important new health club for local people aged over 50.
Age UK East Sussex Chair of Trustees, Roger Howarth, staff and volunteers were in attendance together with 30 keen new members of the club who were introduced to the range of healthy living activities available by the session co-ordinator, Sally Taylor.
Sally introduced the new members to chair based exercises before embarking on more fun activities such as New Age Curling, designed to be used indoors with adapted plastic, curling stones on casters and Boccia, similar to boules but with a soft leather ball, which means it can be played at any time in any place and by anyone.
Sally said: "It is so important that our older members of the community have a regular class to come to. Not only do they get a great work out but they meet up with old and new friends. It's really fulfilling when club members form friendships and go to other activities together."
Chair of Trustees, Roger Howarth, said: "I am delighted to be involved in the opening of a new Healthy Living Club. Age UK East Sussex believes passionately in providing services that help local people in later life remain healthy and independent. And it is great to open a new club so close to our new HQ in Faraday Close."
The new Healthy Living Club will run fortnightly on Tuesdays from the 9th of April 2019 from 2-4pm. So, the next few sessions will run on the following dates: 23rd April, 7th and 21st May, 4th and 18th June. For more information about these sessions, along with details about our other clubs, please visit our healthy living clubs page.
Age UK East Sussex also provided their new, mobile Information and Advice Resource Centre vehicle; offering a range of support and advice on subjects such as finance, health, housing and welfare. We hope to make this a regular fixture at future Healthy Living Club sessions.
Celebrating its 70th year providing support for local older people the new Healthy Living Club is an important part of development of Age UK East Sussex and its aim to be: 'a financially sustainable charity and social enterprise, led by our customers, collaborating with others and delivering excellence.'
Age UK East Sussex is extremely grateful for the generous support for this vital new service from East Sussex County Council.
For further information about the Age UK East Sussex Healthy Living Clubs, services and activities provided, volunteering and other ways to support Age UK East Sussex please visit www.ageukeastsussex.org.uk online or call 01273 476704.