The Endellion String Quartet
Published on 13 April 2018 11:17 AM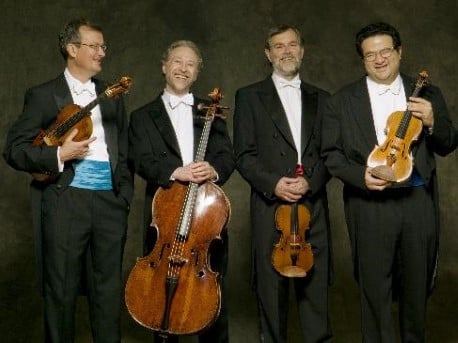 This is a gentle reminder that the Endellion String Quartet's final concert this season at Wigmore Hall will be on SUNDAY, 13TH MAY (7.30pm). They will be playing:
HAYDN String Quartet Op.76 No.4 ('Sunrise')
TIPPETT String Quartet No.2
BRAHMS String Quartet No.1 Op.51 No.1
Haydn's great 'Sunrise' is part of his wonderful Op.76 set … the apogee of his composing career. Tippett's wonderfully inventive second quartet draws heavily on English Renaissance polyphony with vivacious cross rhythms and melodies constantly refreshing themselves. The slow movement is a dirge conceived in response to Neville Chamberlain's notorious 'piece of paper' in 1938. Brahms destroyed numerous quartets before he was satisfied they would stand comparison with Beethoven's and this one in C minor is the first of his three masterworks. Full of drive and energy, it nevertheless has a most tender love song as its slow movement.
Further information and tickets:
wigmore-hall.org.uk/whats-on/the-endellion-string-quartet-201805131930.
The Endellion String Quartet is most grateful to Lark (Group) Ltd for its sponsorship of this concert.
'There's always a feeling when listening to the Endellion Quartet that you're listening to the Urtext method of quartet playing. Maybe 35 years of playing together
has brought a uniformity of thought and instinct to them as a group that allows them to play as a single entity' - Gramophone Magazine
'The Endellion is a quartet of the first rank: precision, clarity of articulation, and beauty of sound characterize both the individual playing and the stimulating interplay of the four team-mates.' — La Presse, Montreal