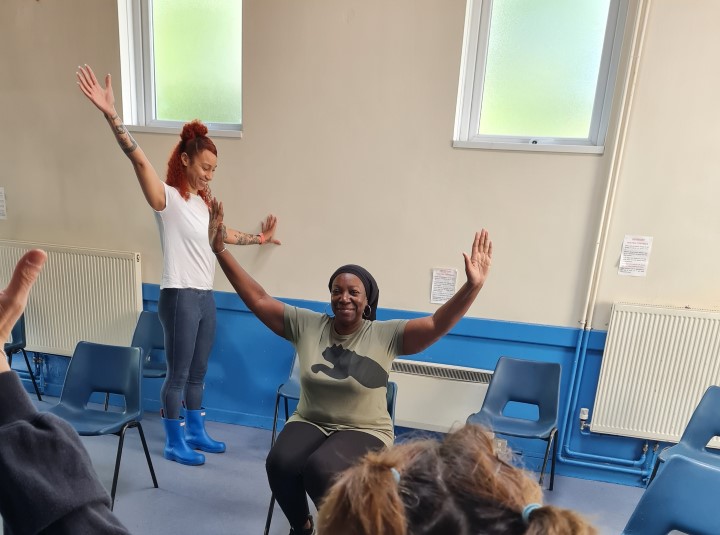 Free for the first 12 sessions, then £2.50 per session to continue.
Fall Stop Service provides support to people over the age of 50, who are residents of Enfield and who have experienced a fall or are at risk of falling.

We're commissioned by North Central London Clinical Commissioning Group to support the Falls Prevention pathway and work closely with our clinician partners from Barnet, Enfield and Haringey Trust. St Michael's Falls Prevention Service, North Middlesex University College Hospital and Chase Farm.

We know the covid-19 profoundly affected people's ability to get out and about and reduced people's confidence. We returned to in person activities in May/June 2021 and noticed people had been moving less, sitting more and lost confidence in walking distances. This had increased risk of falls for many people, but especially older people, or those with long-term health conditions.

If you've fallen in the past, making changes to reduce your chances of having a fall can also help you overcome any fear of falling. We can work with you to make simple changes to your home and doing exercises to improve your strength and balance.
Health & Wellbeing Navigators are there to offer support and guidance to help feel more control and
Our Fall Stop Programme helps :

Improve balance
Boost confidence
Provides information & advice on preventing falls
Advice to manage long term conditions
Apply for mobility of transport concessions- Dial a ride, GP Taxi Card and more.
After an assessment you will be eligible to attend 12 free exercise sessions, we have 5 weekly classes throughout the week across the borough in EN3, N9 and N21.

Our exercise instructors are qualified fitness professionals and have worked with our Falls Lead to devise a programme to improve your strength, balance and coordination.

Strength & Balance sessions
Seated and Standing Yoga sessions
After you have completed 12 sessions, we encourage you to move into Fit for Life activities which has a huge range of classes, walks and talks, suitable for all. We also have a programme of more gentle exercise and seated exercise that is suitable for people who are working towards attending our Fit for Life classes, these are chargeable classes at £2.50 per session.

We will also be introducing a NEW Falls Course in September 2022, if you are interested in attending email: sophie.graham@ageukenfield,org.uk

For further Information about the Fall Stop Service and to refer yourself or someone you care for please:

Call 0208 375 4120

Email:referrals@ageukenfield.org.uk