Enabling and Home Support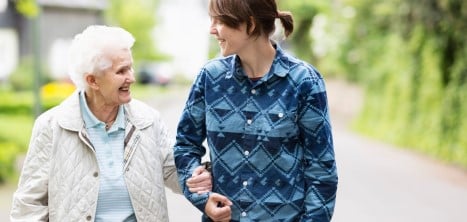 Please contact our team to discuss individual needs.
Please note, this service is not available outside Age UK Exeter - Head Office's catchment area.
Age UK Exeter
The Sycamores
Mount Pleasant Road
Exeter
Devon
EX4 7AE
United Kingdom
Support and practical help for the over 50s.

Enabling and Home Support is designed to provide you with a friendly, reliable service that can offer one to one support, improve quality of life and promote independence.
We can help with:
• Shopping and errands
• Light housework, dusting and vacuuming
• Laundry, including making and changing beds
• Getting out and about for social visits
• Preparing meals and checking food expiry dates
• Travel to appointments
• Light gardening
• Bill paying, paperwork and budgeting
• Time off for carers (respite visits)
• Downsizing or planning ahead
• Collecting prescriptions
• Visits for people who are in residential homes
https://www.ageuk.org.uk/bp-assets/globalassets/exeter/icons/en01-enabling-service-leaflet--april-2022.pdf
Why choose Age UK Exeter's Enabling and Home Support Service?
Age UK Exeter has been providing this service for over 20 years, and we deliver hundreds of hours of home support for older people across Exeter each month.

Our trained staff are mature, local people who are sensitive to your needs and what you want to achieve.

Our aim is to support you to remain living independently in your own home and to offer a flexible and friendly service, providing visits Monday to Friday across Exeter.

We pride ourselves on offering a high-quality service.

We keep in regular informal contact with our clients and offer a more formal annual review to make sure that we're continuing to meet your needs.

There is a charge for this service, we can talk to you about this when you make an enquiry.
What happens next?
So that we fully understand your needs and to give you the chance to understand our service, we will arrange to visit you in your home and make an initial assessment.

There is a charge of £25.00 for the home visit assessment.

On taking up the Enabling Service, an hourly rate will be payable based on the individuals needs.

If you decide you'd like to go ahead, we will agree together when and how to start. Everything will be confirmed in writing to you too, including how we keep in touch.

We are very sensitive to the particular needs of carers - whether you live with the person you care for or are at a distance. Please do get in touch if you would like to discuss how our service may be of assistance to you.
Here's what people have said about our service:
"The visit was excellent! Debbie was wonderful and it lifted my spirits and made me feel happier than I've felt in a long time. I'm very much looking forward to the next visit, a massive thank you!"

"I'm over the moon with the help from my Home Support Worker, Kathy, she is first class!"