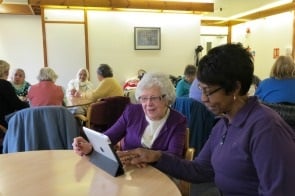 Without our dedicated team of volunteers, we would not be able to maintain our wide range of vital services we offer the residents of Hillingdon.
Volunteering is a great way to use your existing skills or to learn new ones. It really does make a difference not only to the volunteer themselves, but to the person/people they are helping.
People offer to volunteer for various reasons, they have some spare time and want to give something back to their community, to make a difference, to gain skills and confidence to return to work, to socialise and make new friends or to simply keep busy.
Our Volunteers cover the whole breadth of the organisation, Information and Advice, Social Wellbeing Services, Hospital Services, our shops and helping out in our offices.. Without our volunteers some of our services would not be sustainable.
You can get involved in any part of our work from helping in our retail shops that raise valuable income to sustain our services, to helping in our Information & Advice Service, Hospital & Community Services, Home Services, and Social Wellbeing Services, Fundraising or helping in our Head Office.
We would like all volunteers who join Age UK Hillingdon to join with the intention of staying for at least 6 months and be over 18 years of age.
Current volunteering opportunities
Help support older people by volunteering with Age UK Hillingdon or call the Volunteering Team on 0208 756 3062 or email volunteering@ageukhillingdon.org.uk for more information.
Being a volunteer with Age UK Hillingdon
Pat Whitlock (by kind permission) talks about volunteering
"I decided I wanted to be a volunteer with Age UK Hillingdon after I retired in April 2010. I started by helping out with the exercise classes which was a new challenge for me! I then also helped out in one of the charity shops. Sadly I lost my husband in 2012 and stopped my voluntary work for a while. I eventually went back to helping out in the shop, Hillingdon Borough tea dances and also started at Chapel Court in the office.
I now help at the office and the monthly tea dances.
I thoroughly enjoy the feeling of being back in an office environment (which was my previous work history). I feel I am doing something positive and useful. Volunteering has helped me through a difficult time and given me a purpose. I have met great people, made new friends and hope I can carry on volunteering into a good old age!"
To download an application pack please click here:
We sometimes post job vacancies on social media. If you'd like to be notified in this way please join us.
Related links