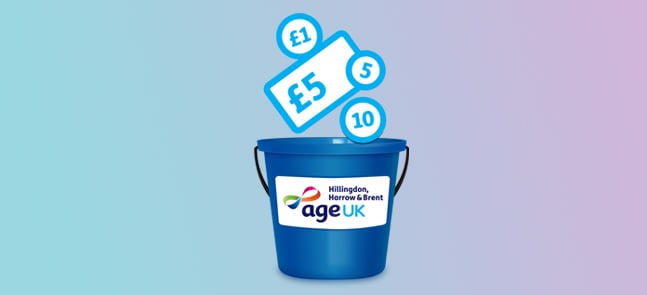 What can you do to raise funds for older people in Hillingdon, Harrow and Brent?
There are a number of ways you can fundraise for us, at school, at work, in your community, buying, selling or by taking on a personal challenge. The choice is yours!
Virtual London Marathon 2021
Simon is a 33 year old chiropractor who lives in Egham. He has been running for a few years and enjoys running around the countryside. Otherwise he is at home enjoying cooking, woodwork and stopping his 2 rabbits (Barry and Iris) from eating everything in the house and garden!

Our Community fundraiser Wendy met Simon when unfortunately, she locked her back up and Simon did an amazing job helping Wendy to recover.

Whilst talking to Simon, Wendy mentioned Age UK Hillingdon, Harrow & Brent, the charity she works for, and Simon decided to take up the challenge to Run/Walk the Virtual London marathon on 3rd Oct 2021 to raise funds for Age UK HHB.

Marko from Croatia has been living in London for almost 2 years and works as a program manager at Cisco. He enjoys various sport activities such as climbing and running.He has always wanted to do a marathon race, but never had the courage to take up the challenge.

When he realized there is a virtual option he decided to support Age UK HHB and run the Virtual London Marathon.

The quote below is one of Markos favourites.

"As you grow older, you will discover that you have two hands — one for helping yourself, the other for helping others." — Audrey Hepburn

Sam was born and raised in Lincoln before moving to the Staines area for work 8 years ago. He is married with a three month old daughter. This has made training trickier but he finds running for charity makes the early mornings much easier!

A keen runner since leaving school at sixteen, Sam has completed multiple marathons and ultra marathons including a multi day event in the Azores and the London Marathon for charities.

Alongside running Sam is keen cyclist and enjoys being outdoors.

Sam is a solicitor assisting those who have been impacted by medical negligence. He is a regular attendee at the Runnymede Runners who have been helping Sam train for this event.
Ongoing ways to raise money
Contact our Fundraising Team
If you are interested in raising funds for Age UK Hillingdon, Harrow and Brent, we would love to hear from you.