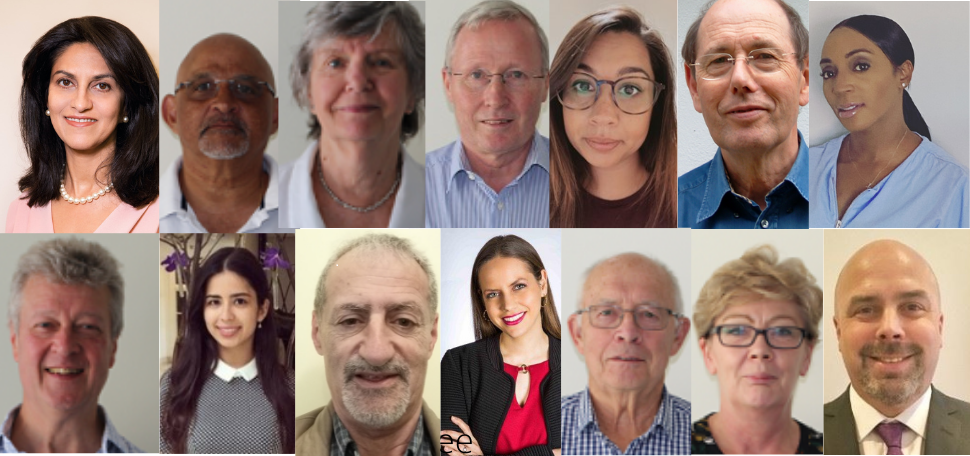 The Board of Trustees are responsible for working with the Chief Executive to agree the strategic vision and mission and guide the Charity towards achieving its goals.
Neil Franklin - Chair of Trustee Board

Married with two grown up children, a Ruislip resident since birth.

Neil worked for Barclays for over 29 years, moving from branch banking to a senior position at Head Office in a Change Management role.

In 2000 Neil joined a programme management consultancy and then finished his career with 8½ years with the Department of Health in a senior business planning role, managing the Central Planning & Programmes Office. Neil retired in May 2011.

Neil became an Information & Advice volunteer for Age UK Hillingdon from April 2013 until October 2017.

Neil became a Trustee in October 2013 and was appointed Chair in October 2017

Roger Calverley - Treasurer

Roger joined Age Concern in 2005 as a volunteer working on Welfare Benefits, and became a Trustee and quickly Treasurer in 2007.

Although not an accountant, Roger has many years' experience in a management position, where understanding particularly management accounts and quoting for projects, was a major part of his job. His role as Treasurer, is to ensure that figures produced by the Finance team are appropriate, timely and accurate.

Roger's work experience, after studying maths and statistics, included operations research at Milk Marketing Board, statistician at Brent Council and Operations Director at a major international market research agency.

Roger retired in 2004, enjoying the subsequent years, holidaying, walking, listening to music, and latterly he has taken up Lawn Bowls.
Heather Du Pille - Trustee

Heather is married and has been a Brent resident since birth.

She worked for nearly 30 years in Banking, starting in branch banking before moving into Central London in various management roles such as Business Development, Arrears & Repossessions and Legal & Litigation.

She stopped working in 2011 to care for her mother thus gaining great insight into the challenges that informal carers face on a daily basis.

Heather volunteered in our Brent Charity shop for 10 years gaining experience in Charity Shop Retail Management.

Appointed as an Age UK Brent Trustee nearly 7 years ago and now Age UK HHB.

Hiran Weereratne - Trustee

Hiran was born in Sri Lanka and educated in the UK from the age of 10. Since then he has lived and worked in a variety of countries, including Saudi Arabia, Hong Kong, Singapore and most recently Australia as a Chartered Accountant with several large multinational corporations including Philip Morris, Walt Disney, Deloittes and Cargill.

Hiran has been a Ruislip resident for 4 years and currently works at his second favourite charity – Guide Dogs as a Senior Finance Business Partner.
Peter Slavid - Trustee

Peter spent 30 years in marketing and partner management in the computer industry and has been happily retired since the age of 55.

Until recently he was Chair of Hillingdon Citizens Advice and has been a trustee at other local and national charities.

Peter's other passion is music. He volunteers at festivals, helps organise Uxbridge Folk Club, writes reviews and broadcasts radio shows of modern jazz for HayesFM and across the internet.

He is married with two daughters and two grandchildren and has lived in Ruislip for 30 years

Chris Beatty - Trustee

Chris has lived in Hillingdon for most of her adult life.

Following teacher training in Birmingham, Chris worked in primary schools and subsequently in adult education.

As a single parent Chris worked in an assortment of roles, including proof reading for a children's book publisher, secretarial work for a medical consultant and teaching in adult literacy.

Chris has had over 25 years involvement with Age Concern/Age UK HHB firstly as an Information & Advice volunteer and subsequently as a board member, Vice Chair and for two periods as Chair.
Tony Burch - Trustee

Tony worked as a GP in Brent for over 25 years.

Developing an interest in Older Peoples' Medicine, he came across Age UK when he became involved in service development and improvement.

Working with other organisations and professionals helped him realise how important the voluntary sector is in helping to improve the lives of older people.

He was a trustee of Age UK Brent for 12 years before the merger with Hillingdon and Harrow, and is also a trustee of Age UK London and Dementia Carers Count.

Natasha Spence - Trustee

Natasha has worked in Live Entertainment & Attractions for over 20 years and held account management, marketing and ticketing roles with Wembley box office, Ticketmaster and Live Nation.

She is currently working for BBC Studios, the commercial arm of the BBC, leading live events and attractions within the Live Entertainment team, from concept to delivery. Natasha is incredibly passionate about the needs of older people - especially in respect of their health and wellbeing.

She is delighted to have joined Age UK HHB as a Trustee, and to be supporting the work of the charity. She grew up in Brent and now lives in the Hillingdon borough.
Gurpreet Mangat - Trustee

Gurpreet is a resident of Hammersmith with experience of working across Brent, Harrow and Hillingdon when with NWL NHS Trust.

She holds a BSc. Biomedical Science, from Kings College London and is currently completing studies for a MSc. Strategy, Change Management & Leadership, from the University of Bristol

Since graduating in 2011 she has spent the majority of her career in the NHS; nationally, regionally and provider level. with roles in Business & Transformation management, Project and Programme management. Recently she was Covid Vaccination Programme Manager, NHS England – South East

Having had several roles working across Brent & Hillingdon on work that has required her to spend time understanding the demographics and personality of the community, its challenges and opportunities, she has seen the pivotal role third sector organisations such as Age UK play in the system and is anxious to bring her skills to our Charity.

Maryam Farooqi - Trustee

Maryam has been a Harrow resident since birth although she has travelled to 55 countries many involving volunteering.

She obtained a Law degree (LLB) from University London and gained corporate and criminal legal experience in several central London law firms. She joined Save the Children UK in 2019 and is currently Senior Philanthropy Manager, Middle East.

She is an experienced public speaker and has worked closely with the government and local politicians.

She enjoys mentoring current undergraduate and MA students.

Maryam was a Volunteer caseworker at Victim Support Harrow 2016 – 2019.

She volunteered for Age UK Harrow for over 5 years.

She was appointed as an Age UK HHB Trustee in June 2021
Tony Valentine - Trustee

Tony has been a Trustee for Age UK Hillingdon, Harrow and Brent for 21 years.

He worked as a General Manager at Thames Television until retirement. Tony has also worked in a variety of Public Service and Voluntary areas such as 17 years Justice of the Peace (retired), 9 years Non-Exec Director and 3 years Non Executive Chair (retired) Hillingdon Hospital NHS Trust, 3 years Chair and is a Trustee for 2 other charities.

Ami Kotecha - Trustee

Ami has nearly three decades of experience in leading and managing businesses across the world and as a founder of a real estate company she is experienced in co-ordinating multidisciplinary teams to deliver large scale development projects. This involves investing in technology solutions that help implement sustainability and ESG commitments.

Ami is a member of LSE's Venture Advisory Board, the Cambridge University Land Society's committee and the Urban Land Institute's Product & Innovation Council.

Ami resides in Ealing with her husband and two boys and maintains close social connections with our 3 boroughs due to the large number of family members and friends who live here and her love of cycling with Breeze in Harrow and Hillingdon.
Carolina Castillo - Trustee

Carolina Castillo works in the Financial Services Industry as a Global Business Development Director. In 2019 she won the Women in Sales Award - Professional Services.

Before working in sales, Carolina worked in Procurement sourcing marketing services for Fortune 500 companies. Having been in both sides of the negotiation table, Carolina has a wealth of experience in negotiating contracts.

Carolina is passionate about public speaking and founded a Public Speaking club in 2018: Centurion Toastmasters where she has served as President. She is an award-winning speaker herself and thoroughly enjoys helping others develop their skills. She is also a trustee of the 28th Hammersmith Scouts Group in West London.

Julian Lloyd - CEO

As the senior executive member of staff responsible for managing the operations of Age UK Hillingdon, Harrow and Brent.

Julian is the main point of contact between the workforce and the board of Trustees and is the public face of the charity.

Julian has a career that spans over 20 years in the charitable sector having worked for the Alzheimer's Society, British Lung Foundation and in a range of smaller local charities.

Julian took on the role of CEO of Age UK Hillingdon in 2017 and oversaw the merger with Age UK Harrow and Age UK Brent in 2018.
Can't find what you are looking for?
If we don't provide it, we probably know someone who does.