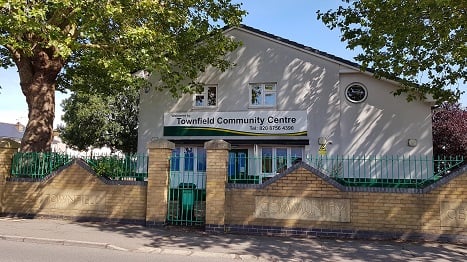 Townfield Centre is not currently open to the public. If you need to talk to someone please call 0208 756 3040.
Punjabi
ਅਸੀਂ ਇਸ ਸਮੇਂ ਜਨਤਾ ਲਈ ਖੁੁੱਲਹੇ ਨਹੀਂ ਹਾਾਂ. ਜੇ ਤੁਹਾਨ ੂੰ ਕਿਸੇ ਨਾਲ ਗੁੱਲ ਿਰਨ ਦੀ
lਰ ਰਤ ਹੈ ਤਾਾਂ ਕਿਰਪਾ ਿਰਿੇ 0208 756 3040 ਤੇ ਿਾਲ ਿਰੋ
Hindi
हम वर्तमान मेंजनर्ा के लिए खुिेनह ींहैं। अगर आपको लकस से
बार् करनेक आवश्यकर्ा हैर्ो कृ पया 0208 756 3040 पर कॉि
करें।
Urdu
ہم فی الحال عوام کے لئے کھلا نہیں ہیں۔ اگر
آپ کو کسی سے بات کرنے کی ضرورت ہو تو براہ
کرم 0208 756 3040 پر فون کریں۔
Gujarti
અમે હાલમાાં લોકો માટે ખુલ્લા નથી. જો તમારે કોઈની સાથે વાત કરવાની
જરૂર હોય તો કૃપા કરીને 0208 756 3040 પર ક .લ કરો.
Somali
Hada umaynaan furan dadweynaha. Hadaad u baahan
tahay inaad qof la hadasho fadlan wac 0208 756
3040.
Townfield Community Centre is a multipurpose building which is used by Age UK for a variety of reasons. Some of our staff are based in the offices above and there is a meeting room on the ground floor which is used for various activities and event and is available for hire. All our rooms are disabled friendly.
Please click on the boxes below for more information on some things which are available at Townfield
Contact details
Townfield Community Centre
Townfield Road
Hayes
UB3 2EL
Tel: 020 8756 4390
Email enquiries@ageukhhb.org.uk
Opening hours
Mondays to Fridays between 9 am to 4pm. (Reception)
How to find us
The Townfield Community Centre is a 10-15 minutes walk from Barra Hall Park. There is limited parking for visitors at our premises and it is best to use public transport.
Buses
Bus route numbers H98 and 195 (from Hayes Town) all run along the Church Road past the Townfield Road.
Our Location
See our location on the below map