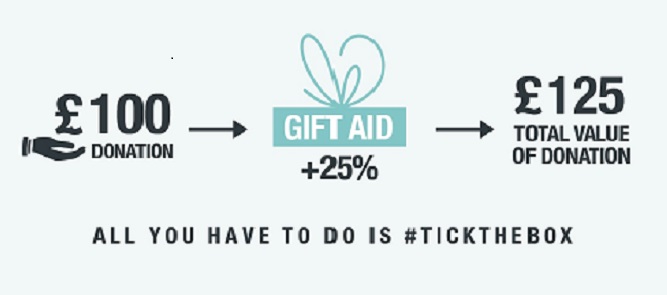 Gift Aid it
Make your gift or donation worth 25% more at no extra cost to you!
What is Gift Aid and how does it help Age UK Hillingdon, Harrow and Brent?
The Gift Aid scheme allows us to claim 25p back from the government for every £1 you donate. That means we get more out of the money or donations you give us, without it costing you more.
Who is eligible to claim gift aid?
To claim Gift Aid you must be a UK tax payer.
How to add Gift Aid to your gift?
You need to make a Gift Aid declaration so we can claim the Gift Aid on your donation. If you donate online through Paypal, Just Giving or Virgin, there is a Gift Aid form included. If you are donating to us by cheque or cash, Click to download the Gift Aid declaration form
Can I Gift Aid charity sho
p donations?
Yes. We can claim Gift Aid on what we make from the donations in our charity shop too. Gift Aid on a £60 bag of donations raises an extra £15, which could help recruit, train and support befrienders to visit housebound and isolated older people.
How to apply to claim Gift Aid on your shop donations?
You can fill in the Gift Aid form at our shop to boost the value of your donated items or you can download the Gift Aid declaration form by clicking here and take it to the shop with you.
What if you still have questions?