Show your support for Age UK Hillingdon, Harrow and Brent and get involved with a range of exciting fundraising opportunities and challenges.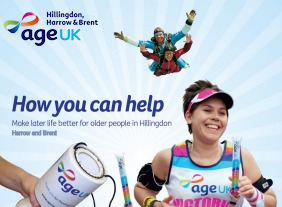 We are part of the Age UK Partnership but we are a local and independent charity which means the money we raise is distributed locally to make a real difference to older people within the London Boroughs of Hillingdon, Harrow and Brent. Your generosity in supporting our work can help us to maintain and expand our current services which are all about staying independent, safe, healthy and active.
How your support helps
£20 could pay for someone to do the shopping for an older person
£25 could pay for a Welfare Benefits Team visit to help claim all entitlements
£100 could pay for a top-to-toe clean of an older person's home
Whether you choose to jump out of an airplane, host a bake sale or fundraise at work or school, there's something for everyone. For a full list of activities view our A-Z of fundraising ideas.
Paying your money in
Once you have completed your fundraising, please return your sponsorship money by sending in a cheque made payable to
Our Age UK Hillingdon, Harrow and Brent Address- Which is our Chapel Court office:
Age UK Hillingdon, Harrow and Brent
2 Chapel Court
126 Church Road
Hayes
UB3 2LW