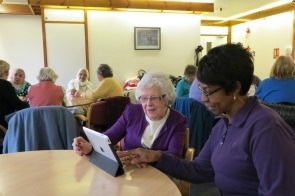 Without our dedicated team of volunteers, we would not be able to maintain our wide range of vital services we offer the residents of Hillingdon, Harrow and Brent
Volunteering is a great way to use your existing skills or to learn new ones. It really does make a difference not only to the volunteer themselves, but to the person/people they are helping.
People offer to volunteer for various reasons, they have some spare time and want to give something back to their community, to make a difference, to gain skills and confidence to return to work, to socialise and make new friends or to simply keep busy.
Our volunteers cover the whole breadth of the organisation, performing roles such as Information and Advice, Social Wellbeing Services, Hospital Services, our shops and helping out in our offices. Without our volunteers some of our services would not be sustainable.
You can get involved in any part of our work from helping in our retail shops that raise valuable income to sustain our services, to helping in our Information & Advice Service, Hospital & Community Services, Home Services, and Social Wellbeing Services, Fundraising or helping in our Head Office.
We would like all volunteers who join Age UK Hillingdon, Harrow and Brent to join with the intention of staying for at least 6 months and be over 18 years of age.
Why volunteer?
Volunteering is a great way to meet new people, learn new skills, and support the work we do in the community.
Who can volunteer?
Almost anyone can be a volunteer. We have a wide range of roles which suit different people and different skills.
How much time do I need to give?
It depends on the volunteer role you are interested in. Some people give an hour a week, other people do more.
What will I gain froering?
Although volunteers give their time for free, there are many benefits to volunteering for us. What you get out of volunteering will depend what you want to achieve and how much you put in. We also run yearly events for volunteers which include giving out long service awards. Click here for details on the latest "celebrating our volunteers" event
Being a volunteer with us
If you would like to know what it's like being a volunteer with Age UK Hillingdon, Harrow and Brent please see what Pat Whitlock (by kind permission) has to say about volunteering.
Current volunteering opportunities
Help support older people by volunteering with Age UK Hillingdon, Harrow and Brent or call 020 8756 3040 or email at volunteering@ageukhhb.org.uk us for more information.
To download a Volunteering application pack please click here: