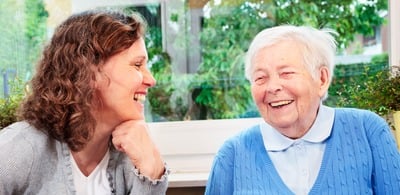 Homeshare is designed to help reduce isolation and improve wellbeing. It enables two unrelated people to share a home for mutual benefit.
An older person with a spare room (Householder) is carefully matched with a person who is in need of low cost accomodation (Sharer).
In return for accommodation the Sharer gives the Householder 10 hours of their time each week as a combination of practical support and companionship.
Each Homeshare match is individual. The type of support may include some light housework, cooking, shopping, gardening, help with computers and technology, or spending time together over a meal or a cup of tea. The presence of another person in the house, especially overnight, may also benefit the Householder and reassure their families.
Please note Homeshare does not include any personal care.
The monthly fees payable to Age UK Hillingdon, Harrow and Brent covers the costs of vetting prospective Householders and Sharers, setting up agreements, monitoring the arrangement and helping to deal with any issues or disputes that may arise. It is a support service to make sure that the Homeshare arrangement works and is safe.
Registration is free.
The Householder pays £100 per month (the equivalent of approximately £3 a day).
The Sharer pays £200 per month.
The Sharer also pays a contribution to the Householder as an agreed amount towards household costs.
Housemates with a 68 year gap!
Florence (95) and Alexandra (27) live together in a home sharing arrangement. Watch them talk about how it works for them.
Click on the links below for further information or to check if a Homeshare arrangement might be right for you.
Please phone Sam, Homeshare Co-ordinator on 020 3957 8671 or email homeshare@ageukhhb.org.uk