Age UK Harrow offers a free and confidential information and advice service for older people, their families and carers.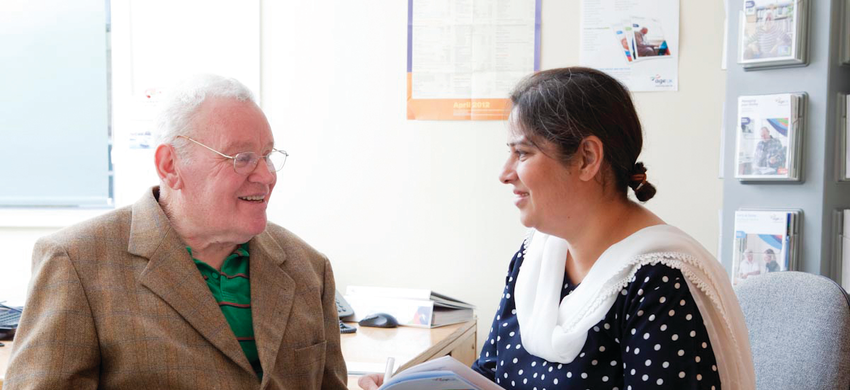 What do we provide?
Age UK Harrow Advice Service can offer you up-to-date and accurate information and advice on a wide range of issues to help you make informed decisions
We will tackle any discrimination or prejudice that you face
We have an equal opportunities policy which we observe at all times
It doesn't matter if you rent or are an owner occupier, we can help.

We can give you:

Advice on help with heating
Information on your tenancy rights
Information on Private Sheltered
Housing available in Harrow

Welfare benefits
Many older people are missing out on money that is rightfully theirs.

Tax surgeries
Are you worried about tax? Are you over 60 and can't afford to pay for advice?
Good, accessible transport extends opportunities for everyone. Our information and advice team can provide advice on transport issues.
Find Out More About:
Community Care
Housing
Leisure and social activities
Transport
Trusted traders
Welfare benefits
We can also provide advice on:
Your rights to Social Services
Most other things that affect your quality of life
We may be able to take action on your behalf. We can put you in contact with our other services. If we cannot help you, we will try and put you in touch with people who can.
How we work
Our service is free
We will keep your business confidential
You can talk to us in private
We will not make judgements about your life or what you want to do
We will not be influenced by any interest other than yours
Out in the community
Age UK Harrow Information and Advice representatives will be present at these venues to answer your questions about benefits, community care, housing and transport options for older people:
Wealdstone Library Thursday 16th May 2019 10:00am - 12:30pm
Gayton Library Thursday 20th June 2019 10:00am
In addition to these dates, we also have an information desk every Tuesday from 1:00pm - 3:00pm at Pinner Library.
Useful links
My Health London is a great website by the NHS that gives lots of useful information about health related issues. You can compare Care Homes, look up memory services and dementia cafes, and use an interactive map to find over 600 NHS, Local Authority and other services.
Support & Wellbeing Information Service (SWiSH)

This service is part of the Support & Wellbeing Information Service (SWiSH), which is a Care Act 2014 service commissioned by Harrow Council. The service is for anyone in Harrow looking for ways to keep safe and well. We can also respond to enquiries from staff in local organisations. This service is run by a Harrow Community Action (HCA) consortium of 5 local charities: Age UK Harrow , HAD, Harrow Carers, Harrow Mencap and Mind in Harrow.
Arvind Sharma - Chairman of Healthwatch talking about the benefits of SWiSH.
__________________________________________________________
Age UK Hillingdon, Harrow and Brent proudly holds the following Quality Standards: