Support & Wellbeing Information Service Harrow (SWiSH)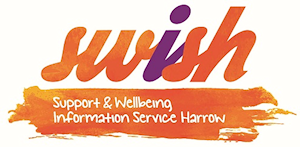 From the 3rd of August 2015, there is a new way to get information or advice about local support services and ways to keep safe and well: the Support & Wellbeing Information Service Harrow (SWiSH). This service has been commissioned as part of Harrow Council's obligations to implement the Care Act 2014. Mind in Harrow is part of this service along with Age UK Harrow, HAD, Harrow Carers and Harrow Mencap, with the Harrow Community Action (HCA) consortium overseeing it.
What does SWiSH offer and who can access its services?
SWiSH is for anyone in Harrow aged 18 years and over – those looking for help for themselves as well as carers and staff in local organisations. It can offer information or advice about a wide range of local services, including where to keep fit and well, manage finances, join social groups, look for work, start a course, access help with housing or welfare benefits or apply for a personal budget.
What does SWiSH not offer?
SWiSH does not offer financial advice, legal advice, advocacy, 1:1 case support for welfare benefits and housing, but it can provide information about where to find this help. You can access information from SWiSH in a number of ways via phone, email, website, events, bulletins and one-to-one sessions. The contact details for the service are provided below.
Is SWiSH confidential?
The service is confidential except under certain circumstances where we have a duty to keep people safe.
What if I have accessibility needs?
Information can be provided in easy-read, Braille and audio formats, as well as some written information in different languages. Interpreting can also be arranged and wheelchair accessible venues can be used.
How does SWiSH relate to the Care Act 2014?
SWiSH has been commissioned by Harrow Council to provide a local Care Act 2014 Information & Advice Service. From April 2015, the Care Act 2014 introduced huge changes to social care services and many new rights for local residents, including a right to information about types of care and how to access them. You can download a summary of the Care Act 2014 or an easy-read explanation.
How can I contact SWiSH?
For more details about this service, see the HCA website.
Staff in local organisations can refer a client to SWiSH via this referral form.
For general enquiries please contact:
Opening hours: 9am-5pm Monday to Friday
Tel: 020 8515 7867
Email: support@SWISHHarrow.org.uk