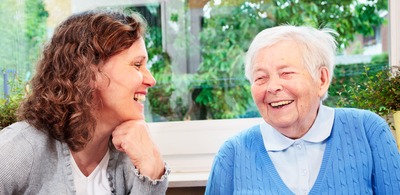 Homeshare is designed to help reduce isolation and improve wellbeing. It enables two unrelated people to share a home for mutual benefit.
An older person with a spare room (Householder) is carefully matched with a person who is in need of low cost accomodation (Sharer).
In return for accommodation the Sharer gives the Householder 10 hours of their time each week as a combination of practical support and companionship.
Each Homeshare match is individual. The type of support may include some light housework, cooking, shopping, gardening, help with computers and technology, or spending time together over a meal or a cup of tea. The presence of another person in the house, especially overnight, will also benefit the Householder and reassure their families.
Please note Homeshare does not include any personal care.
The monthly fees payable to Age UK Hillingdon, Harrow and Brent covers the cost of vetting prospective Householders and Sharers, setting up agreements, monitoring the arrangement and helping to deal with any issues or disputes that may arise. It is a support service to make sure that the Homeshare arrangement works and is safe.
The registration is free.
The Householder pays £100 per month (the equivalent of approximately £3 per day).
The Sharer pays £200 per month.
The Sharer also pays an agreed monthly contribution to the Householder towards any additional household costs.
(For more information on becoming a Householder or Homesharer see bottom of this page)
Housemates with a 68 year gap!
Florence (95) and Alexandra (27) live together in a Homesharing arrangement. Watch them talk about how it works for them.
Current Homeshare Opportunities
Stanmore - HA7

A lovely lady in her 90's with some mobility issues is looking for companionship and conversation.

A large bedroom in a spacious 2 bedroom apartment is offered for £200 per month plus some bills.

This Homeshare would suit a sharer who is friendly and caring and has the time to spend with the householder some afternoons, in the evenings and at weekends.

The householder likes her home to be kept clean and tidy. The ground floor apartment has a large sitting room and dining area, fully equipped kitchen and a small garden.

Stanmore Station (Jubilee Line) is a 10 minute walk away. There are also a number of bus routes with buses travelling to Watford, Harrow, and Edgware.

​The sharer would have their own bedroom with fitted wardrobe, chest of drawers, beside table and single bed supplied. They would also have access to their own toilet and shower.

South Harrow - HA2

A lady in her 90's with a happy, warm personality living with mild Dementia.

The family are looking for a sharer who is patient and caring with a sense of humour, who could offer companionship and some support with small chores around the home.

This Homeshare would suit a sharer who has knowledge or previous experience of the challenges that face someone living with Dementia. Carers support medication and some meals during week days. Her family also support where possible but would feel secure knowing that someone would be at home during the night and providing companionship and support when they are not there.

A single room in a two bedroom bungalow with a garden is offered for £200 per month plus some bills. Situated in a quiet cul-de-sac, there are a number of bus routes which go to Harrow Town Centre and Harrow on the Hill Station (Metropolitan Line) and South Harrow Station (Piccadilly Line).

The sharer would have their own bedroom with wardrobe, chest of drawers, bedside table and single bed supplied. There is a shared wet room, front room, kitchen with dining area and internet is available.
Click on the links below for further information or to check if a Homeshare arrangement might be right for you.
Please phone Sam, Homeshare Co-ordinator on 020 3957 8671 or email homeshare@ageukhhb.org.uk