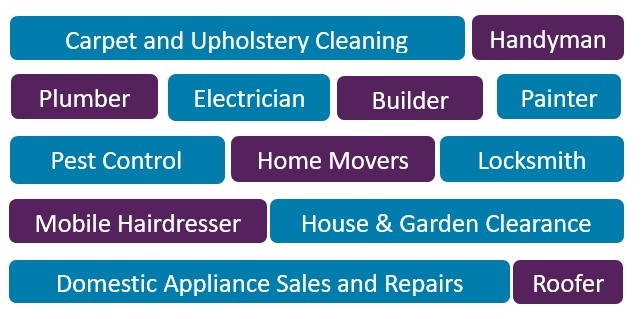 Need a reliable, trustworthy Tradesperson?
Our one-stop directory has been developed to make life easier for people in later life, their carers, families and friends.
Why choose our Trusted Traders?
Our Trusted Traders have been carefully vetted and share our commitment to provide high quality services for older people.
All our tradespeople have provided:-
2 References
Proof of valid public/employer liability insurance
We also continuously monitor performance through customer feedback.
Please see below for details of feedback received (NB. feedback written exactly as on the forms, grammar and spelling mistakes included!)
How do I get in touch with a Trusted Trader?
Contact us on 020 8756 3040 or
Interested in joining our Trusted Traders list?
Contact us on 020 8756 3053 or
Local Trusted Traders Customer Feedback Quotes
Rated 5 Stars

"Loose roof tiles just before major storm. Done this week + replaced joints on garage gutters. Price as per quote - done within 24 hours"

Received 10th February 2020

Rated 5 Stars

"C came and advised us on fitting a safety rail outside our back door. He has now fitted it and we are very pleased with the result"

Received 7th November 2019

Rated 5 Stars

"This was a superb service, to fix a leaky roof, with broken tiles. Great workmanship, and prompt and good value too"

Received 13th March 2020

Rated 5 Stars

"Most efficient + careful.Very hardworking + could not wish for better." My mum's comment.P.S. He was very kind + considerate towards my mum"

Received date unknown
Rated 5 Stars

"Excellent! Refitted cupboard door, mended and stabilised kitchen tap, re-washered bathroom taps - helpful, v.efficient with v. reasonable charge"

Recieved 11th November 2019

Rated 5 Stars

"I have exceptionally pleased with the work that has been done for me, very help for me"

Received 12th November 2019

Rated 5 Stars

"M's work is excellent, he was punctual, friendly & very helpful in moving furniture. He left everything clean and tidy when he had finished"

Received 29th April 2019

Rated 5 Stars

"It was good to have someone like M taking such care with his work, but also I felt very easy to have him arond the house"

Received 7th May 2019
Rated 5 Stars

"A really nice person, very obliging and nothing too much trouble. very, very pleased"

Received 16th August 2019

Rated 5 Stars

"Very pleased with his work - a very nice man!!"

Received 22nd October 2019