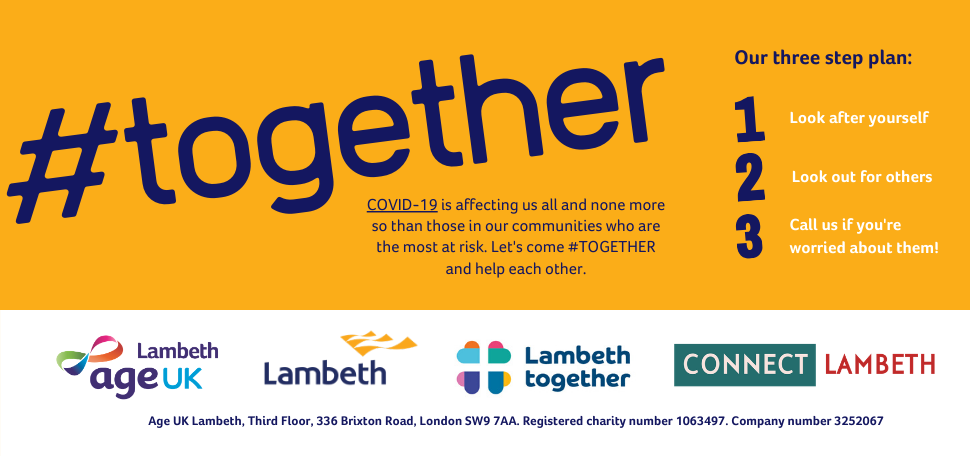 Our Full #Together campagin
Go to www.connectlambeth.org to see our full #Together campaign
See our #Together campaign below for how to get involved
Our Statement:
As with everyone else, and with heavy hearts, we at Age UK Lambeth are beginning to limit some of our usual activities. Over the last 24 hours, we have had to stop doing home visits and face to face appointments. We've closed down our centre, Vida's, and ceased MYsocial events.
We have taken these actions as we don't want to do anything that might risk the health of the people who use our services and the staff & volunteers who provide them.
So, we're working our way through, trying to ensure that we can continue to support some of our most vulnerable citizens. The most important thing is that we find - sometimes creative - ways to carry on as best we can.
Our

MYcommunity Gateway Service

, with support from other staff and volunteers, continues to make sure our phones continue to be answered. We can provide advice, support and point you in the right direction for any additional support you may need.

MYadvice

will continue to answer their advice line and deal with emails, with queries about housing, employment, benefits and money issues.

MYneighbour's

120+ volunteer befrienders are continuing to link up with their clients using the phone.

Our

HandyFix Service is prioritising shopping and medication pick up for people who are housebound and have no one else who can help them. They will

still be going out to priority jobs that keep older people safe in their homes such as key safes, hopsital discharges, light bulb changes and grab rails.

MYsocial

may not have any events coming up but the team are busy contacting members, encouraging them to link up with each other and even doing the occasional virtual coffee morning.
Download our #Together campaign here
Including cards to fill in to reach out to people in your neighbourhood!
Our #Together campaign promotes three things:
Look after yourself. Be informed. Be sensible. Follow the advice from trusted sources only (www.nhs.uk). Switch off the noise of social media and 24-hour news.
Look out for each other. We love the way communities are coming together to help each other out. That's amazing stuff. Stay safe. Be practical. Stay connected in as many ways you can.
Call us if you think you or someone else needs more support. Not health stuff. Use 111 for that. However, if you are really worried about someone else or even worried about how you might cope yourself, then get in touch.
You can download our handy .pdf with the campaign here, including your own cards to reach people in your neighbourhood!
Foodbanks
We're really appreciative of all the offers we've had for food bank donations, rather than us taking them we've decided it's best to leave it to the experts and we will make sure that people who need a food bank voucher will be connected with these services.
To find your local foodbank to donate to please visit the Trussell Trust website
MYcommunity
If you are worried about yourself or others (non-health stuff), email: mycommunity@ageuklambeth.org or call us on 0333 360 3700
OURcommunity
If you want to let us know of a community service or resource that is available, then email: ourcommunity@ageuklambeth.org
Volunteer
If you want to volunteer with us, then email: volunteer@ageuklambeth.org