Charity Shop Finds - a Thrifty Challenge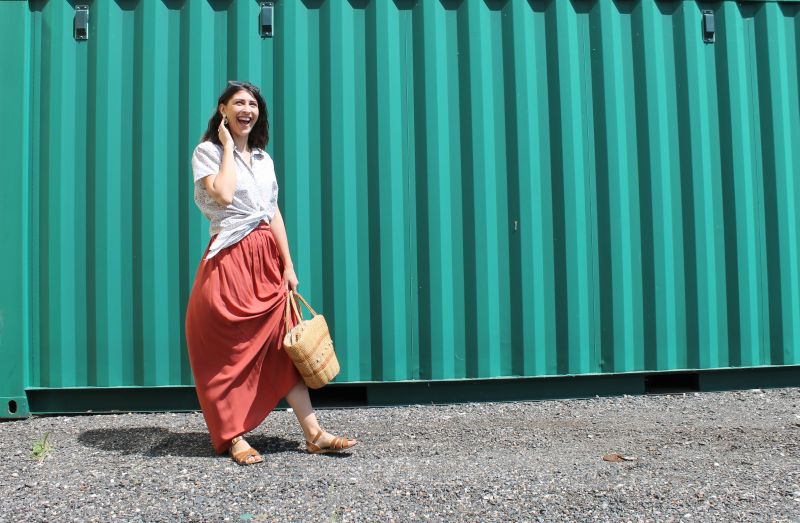 Published on 19 July 2019 11:03 AM
Back in February this year we published a blog post about the benefits of charity shopping on the environment (if you missed the post you can catch up here). Fast forward a few months and we invited local blogger and second hand clothing enthusiast Danie Hadley to our flagship store in Dereham, tasked with the challenge of coming up with a variety of different looks on a shoe-string budget.
Here's what Danie had to say about her journey into the world of second hand shopping for clothes and fabric to sustain her more ethical wardrobe….
About Me
Hi! I'm Danie - a modern-day sewist and second hand shopper with an interest in making my wardrobe more sustainable, ethical and wearable - and I'm very much still learning how! I chart my "me made" and second hand sourced wardrobe via Instagram at @sew_norfolk, where I am able to connect with crafters, makers, sustainable sewists and re-wear enthusiasts worldwide.
I got my first sewing machine three years ago - it was tiny! I quickly discovered a love for making clothes, using super simple beginner patterns for modern-day sewists. It was in the process of learning to make clothes that I realised the unbelievable effort and skill that it takes just to complete a simple tee or dress. If a project took me hours - over the course of an entire weekend - to make, then why was I able to buy something similar for just a few pounds at a fast fashion retailer? After pouring my own blood, sweat and tears (yes, often literally) into my handmade wardrobe, it dawned on me that everything in my wardrobe already was handmade.
My Pledge
This really propelled me into a journey of establishing a kinder wardrobe, one that was more ethically sound, and that makes me feel good. At the same time as making my clothes, I started shopping in fast fashion retailers less and less, and going into charity shops and second hand shops more and more. I pledged that if my clothes weren't going to be made by me, then I would source them second hand.
This pledge, and the increasing discourse around the devastating environmental impact of the fashion industry, has caused me to rethink my practice as a sewist and a maker too. My clothes may be ethically made, but my fabrics often aren't. And the sheer act of purchasing new cotton and denim fabrics is damaging in itself. I'm now working really hard to buy my fabrics second hand too - and have a few outfits that once lived their lives as curtains!
Committing to Second Hand Shopping
I have always loved vintage clothes and second hand shopping - delving into stores chock-full of goodies with the promise of finding a gem! But committing to second hand shopping almost entirely (and I say almost, because my practice isn't perfect!) has completely transformed my relationship with clothes. I'm more playful, more daring with what I wear. I take risks with colours and shapes; throwing outfits together I might never have dreamed of wearing a few years ago.
I would love to see more people have a go at sourcing their next garment second hand - and support great charities and causes at the same time too! Need a dress for a summer wedding? Or a pair of denim shorts for your holiday? It's not always easy, and you might not find the *exact* thing you were looking for - but there's some absolute gold out there. Go and play! And share your #charityshopfinds with me on Instagram.
Each of Danie's looks came in at under £10, making it so affordable to treat yourself to some new looks, prevent items ending up in a landfill and help us to make Norfolk a great place to grow older.
With the summer holidays quickly approaching, why not come and visit our stores for your very own thrifty challenge and bag yourself a bargain summer wardrobe?