Can you help us?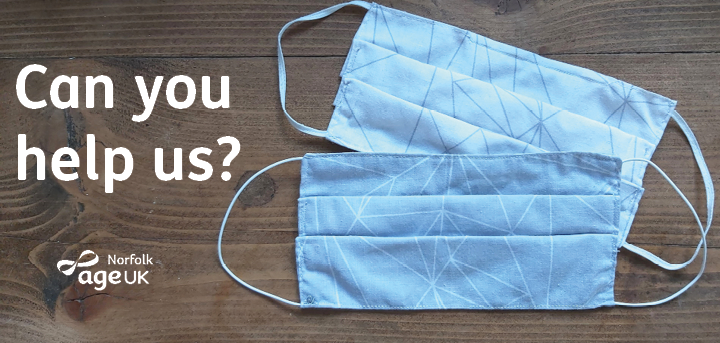 Published on 03 September 2020 02:29 PM
As covid-19 lockdown restrictions have eased, guidelines have come into practice to help keep us all safe. Wearing face masks or coverings in public places such as the supermarket or pharmacy is one of those guidelines. At Age UK Norfolk, we want to make sure that no vulnerable older person who needs a mask is left without one.
That's where you come in…
We're looking for people with sewing skills with a little time to spare who can make and donate face masks to Age UK Norfolk, so that we can distribute them to the older people that we support; along with stocking them in our shops (free of charge) for those who may be struggling to afford multiple disposable masks and maybe don't have the skills to make their own.
Think you can help?
If you can help then we'd love to hear from you! It's easy to get involved, simply post your masks to any of our following sites:
Age UK Norfolk, The Elms Business Space, 7 The Elms, St Faith's Road, Old Catton, Norwich, NR6 7BP (post only)
Age UK Norfolk Dereham Furniture and More Store, 31 Yaxham Road, Dereham, Norfolk, NR19 1HD (post and drop off possible at this store during opening hours)
Age UK Norfolk King's Lynn Furniture and More Store, Unit 9 and 11, Paxman Road, Hardwick Industrial Estate, King's Lynn, Norfolk, PE30 4NE (post and drop off possible at this store during opening hours)
Please feel free to include a note from yourself along with either your email address or postal address as we'd love to thank you for your help!
Useful Information
Gov.uk Guidance on making face masks/coverings:
https://www.gov.uk/government/publications/how-to-wear-and-make-a-cloth-face-covering