Sight loss volunteering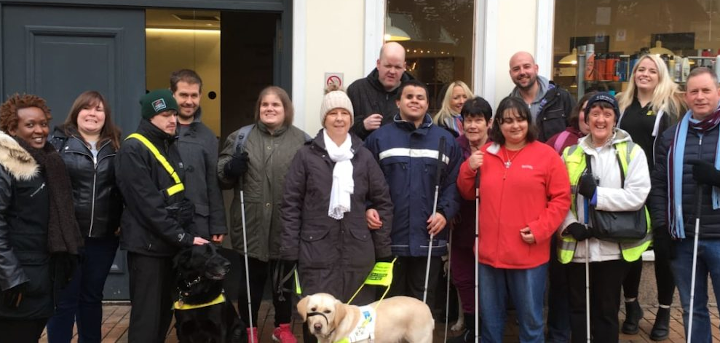 Published on 29 April 2021 05:38 PM
Become a Tyne and Wear Sight Loss Council member
Are you living in Tyne and Wear, blind or partially sighted and interested in advocating for others?Join Tyne and Wear Sight Loss Council's community of blind and partially sighted advocates and help support visually impaired people in your area to live the lives they want to lead.

What does a Sight Loss Council member do?
As a Sight Loss Council member your duties may include putting forward local issues affecting your community at Sight Loss Council meetings (ie pavement parking, guide dog refusals etc) or taking part in accessibility testing sessions, forums, seminars and contributing to public consultations.
If you're interested in gaining advocacy experience, you are a great communicator and confident with technology (or willing to learn), then we want to hear from you!
What do the Sight Loss Councils do?
Sight Loss Councils are currently expanding their reach across England to give people who are blind or partially sighted the opportunity to influence positive change and improve services at a national and local level.
Each Sight Loss Council aims to make a difference by representing the voice of blind and partially sighted people in the key areas of health, employment, education, transport, technology, and sport. If you have a particular interest in any of these areas, please let us know
Examples of Sight Loss Councils' work include:
providing GP Surgeries in Bristol with visual awareness training
working with StageCoach on new audio-visual announcements on their buses in Gloucestershire
providing accessibility feedback on a healthcare app in Birmingham
running accessibility workshops with the Apple store in Liverpool.
Where do we work
We currently have Sight Loss Councils in Bristol, Gloucestershire, Birmingham, Black Country, Merseyside, Greater Manchester and we are launching two brand new SLCs in Tyne and Wear and Bedfordshire.
Why volunteer with Tyne & Wear Sight Loss Council?
We will provide you with core training and ongoing opportunities to learn and develop in your role.
Skills you may learn include advocating for yourself and others, improving your confidence in public speaking, organising events and much more. We'll focus on your strengths and interests and help you build upon them. These are all skills that will really help boost your CV if or when applying for jobs!
How do I join?
To find out more about becoming a Tyne & Wear Sight Loss Council member please send an email to Eamonn.dunne@pocklington-trust.org.uk or visit https://www.sightlosscouncils.org.uk/meet-the-councils/tyne-and-wear/
Information and Advice
For free information and advice on all issues affecting older people