Walking and Strolling Groups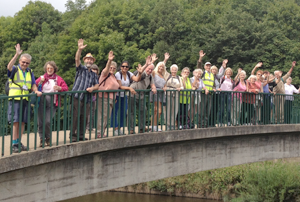 Guided walks for people aged 50+ with time to enjoy the scenery and make new friends.
Walks take place on a Wednesday of each month, are 5 to 8 miles in length and last 4-6 hours with a break.
Strolls take place on the last Wednesday of each month, are under 4.5 miles and last 1.5 to 2.5 hours.
Please see the downloadable programme for further details.
Walks programme January to June 2018
10 Jan: Gateshead to Newcastle Quayside 7 miles
14 February: Newburn Circular 6 miles
14 March: Washington to South Hylton 6.5 miles
11 April: Berwick upon Tweed Circular 6 miles
9 May: Shiremoor to New Hartley 6 miles
13 June: West Monkseaton to Percy Main 6 miles
ADVANCED NOTICE:
There will be a coach trip to High Force and Low Force on 11 July. The cost will be £10 and bookings can be made from May.
Strolls programme January to June 2018
24 January: Benton to the Killingworth Centre 4 miles
28 February: Haymarket to St Nicholas' Cathedral 4.5 miles
28 March: Seaburn to St Peter's, Sunderland 4.5 miles
25 April: Tynemouth to Royal Quays 4.5 miles
23 May: Hazlerigg to Kingston Park 4.5 miles
27 June: Hadrian Road to Rising Sun Visitor Centre 4 miles
View/Download the full programme