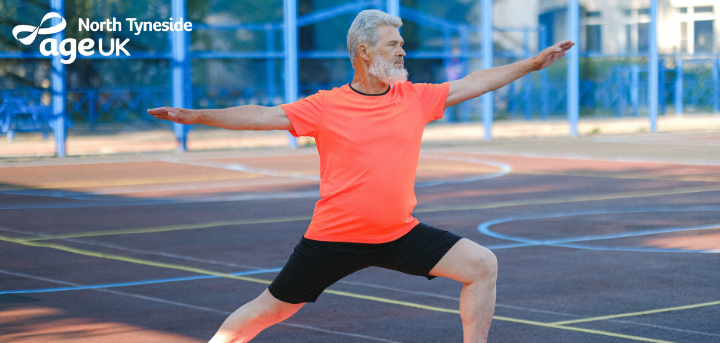 Helping the active stay active when life changes.
Why the need for our Active Age Programme?
North Tyneside Council's data shows that the healthy life expectancy is 62 years of age for both men and women in the borough, but it is estimated that the onset of ill health begins around 15 years earlier in our most deprived communities compared to those that are least deprived.
Much of this premature mortality is preventable; however, social factors, exposure to risk factors (such as smoking, harmful levels of alcohol consumption, poor diet and low levels of physical activity), as well as late presentation, diagnosis and treatment are all key contributors to early death from these diseases.
North Tyneside Council state that older people are more likely to be inactive and have unhealthier diets.
The mission of Age UK North Tyneside as a charity is 'to help older people make more of life' and we believe that a holistic person centred approach is the best way to achieve this. An important part of this is to support older adults over the age of 50 to remain physically active.
Prior to the Covid 19 pandemic in 2020, Age UK North Tyneside provided a range of physical activities (e.g. Tai Chi, walking water, yoga, keep fit including Walking Football). We had aimed to expand on what was popular with our target population and/or introduce new activities that would attract older adults to encourage them to remain active. However the pandemic put this on hold, due to the restrictions imposed.
The Sport England Active Lives Report 2020 states that "people from lower Socio-economic groups (LSEG) are more likely to be inactive compared to those from higher classed social groups, furthering inequalities due to engagement in sports and physical activities.
In England around 12 million people fall within the broad definition of LSEG showing that there is huge potential for around a third of the adult population to gain the many advantages of being active".
There are currently 131 LSEGs in England, of which, nine are in the most deprived (worst 10%) (e.g. Chirton, Riverside, Wallsend, Howdon). This means that approximately 14,000 (6.9%) residents are now living in the 10% most deprived areas of England.
We also know that for older people who have long term health conditions, their motivation, confidence, and opportunity to be active is often reduced.
Already Age UK North Tyneside has been involved in the 'We are Undefeatable' Campaign. We have experience of working with people previously as our Active Age programme has supported and engaged people with a range of long term health conditions to find ways use activity as a way of managing their conditions, and Walking Football has been part of our way to do this.
Like all physical activities, Walking Football supports individuals to maintain or increase their level of physical activity and by doing this improving their overall health and wellbeing. Our Healthy Habits programme encourages older adults to consider healthier lifestyle choices.
As Age UK North Tyneside delivers locally at neighbourhood level, this assists people to remain active and part of their community, hence Walking Football helps in reducing loneliness and social isolation in older adults.
These activities can also act as stepping stones to and from other activities, sessions and support. It is these reasons that we are delivering and expanding our Walking Football skills group for those participants who were less competitive and wished to focus on development topics such as dribbling, passing, shooting and ball control.
Our target population for this group in Whitley Bay is older women and our other group in Wallsend is a mixed group in the local area who have undoubtedly been hit the hardest during the pandemic with many of our customers also having underlying health conditions. One of the ways we are encouraging more active lifestyles in this group is with our Age UK North Tyneside's Womens' Walking Football Group.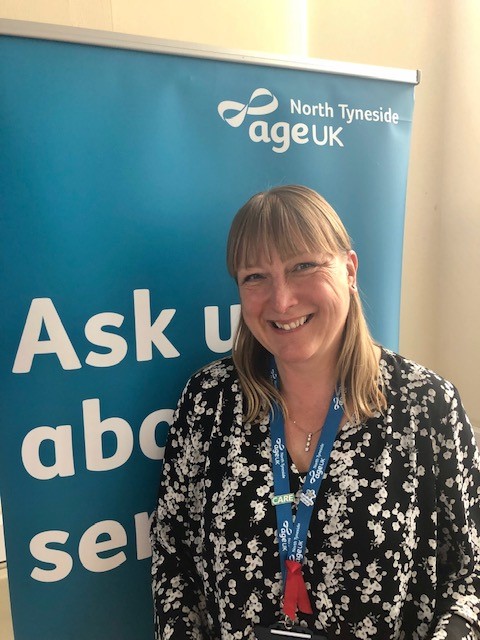 The customer feedback about restarting our groups face to face is mixed; some customers are very keen to start again and some are very reluctant/nervous.
Age UK North Tyneside is a flexible and innovative organisation so we often think outside of the box to continue delivering in these challenging and difficult times. We expect we will continue with this "can do approach" to make it work regardless of what Covid 19 presents to us this winter.
Yvonne Probert, Head of Charity Services
For more information about Walking Football and other Age UK North Tyneside and partner services contact our Customer Service Team Tel: 0191 2808484 Option 0 or e mail enquiries@ageuknorthtyneside.org.uk.
More about the Active Age Programme:
Physical activity guidelines recommend adults over 65 years old should aim to be active daily and achieve at least 150 minutes of moderate aerobic activity each week, such as cycling or walking, as well as additional strength exercises (Department of Health, 2011).
Being physically active increases older adults' functional health and lowers rates of mortality, stroke, diabetes and cardiovascular disease, among other long-term conditions (World Health Organisation, 2011), as well as preventing cognitive decline (Bherer, Erickson, & Liu-Ambrose, 2013).
However, generally, older adults' participation in physical activity is low, especially for those living in less affluent areas (McPhee et al., 2016)
The Active Age programme is a programme developed by Age UK North Tyneside, which aims to increase and/or maintain physical activity of older adults who have previously led an active life but are at risk of becoming inactive due to a health change.
Age UK North Tyneside provides a tailored programme of advice, support and activities to help you stay active.
There are three main outcomes to be achieved through this project:
Increased levels of activity in those aged over 55
Improved physical and mental wellbeing of participants
Reduced isolation and loneliness amongst participants
As part of our project, we have worked closely with health professionals to identify people within our target audience and to promote the ActiveAge service.
Active Age has an open referral route with the majority of our customers coming from either health professionals or as self-referrals.
Once a referral is received, our ActiveAge Co-ordinator will discuss and identify a participant's ambitions, barriers and motivators. They will then work with each participant over a 3-6-month period, to support them to take control of their own health and create new healthy habits that are supportive to sustained activity.
To talk to us about improving your mobility and health by adding exercise and health habits to your lifestyle, contact our ActiveAge Co-ordinator Tel: 0191 2808484 Option 1 or Contact us online

In conjunction with Sport England
What people are saying about our Active Age programme:
Participants have said:
"Since I bumped into Age UK, they've given me a purpose. I know there's something over the horizon should we say. But I never had [something to look towards] until I came down to Age UK. I'm really appreciative of what they are trying to do"
"I do enjoy meeting people and I can't meet people if I am sitting in my own home"
"It's good, it's good for your mental health. Aye, it really helps. You're active, you are socialising all the time"
"I can sort of transfer some of the skills and the exercises that the teacher gives me to the home environment .I'm sort of more aware of what I should and shouldn't be doing as well and how to get on and off chairs and things properly and you know, safely. So I sort of follow that, sort of instruction at home"
"I think I'm probably more confident in walking, you know, balance and things"
"That's the thing about the Age UK instructor, she appreciates that you just do what you can she knows what you can and what you can't do"
"I find it quite challenging because I am not used to running around for like two hours. But like, I think I'm managing to build up my stamina now"
Instructors have said:
"To see how they grow in confidence, how their mobility improves, how their posture improves, it's just amazing"
"A lot of people in the classes, they can't even stand up from a seated position or they can't stand without using arm rests. To have the ability to be able to stand up or sit down, or even to use the toilet if you don't have that help, you know, it's a great thing"
"We do have, obviously people who are already very mobile and active and then we have really frail people who live very sedentary lives. Those ones are usually the ones where you can see the improvement the best"
"I had a lady very recently who was 90 years old and she requested a pair of dumb bells for her 90th birthday so that she could exercise at home"
More ideas to help you to get and keep fit