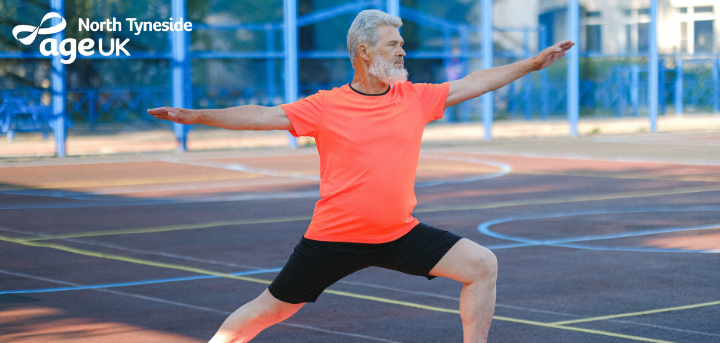 Helping the active stay active when life changes.
Physical activity guidelines recommend adults over 65 years old should aim to be active daily and achieve at least 150 minutes of moderate aerobic activity each week, such as cycling or walking, as well as additional strength exercises (Department of Health, 2011).
Being physically active increases older adults' functional health and lowers rates of mortality, stroke, diabetes and cardiovascular disease, among other long-term conditions (World Health Organisation, 2011), as well as preventing cognitive decline (Bherer, Erickson, & Liu-Ambrose, 2013).
However, generally, older adults' participation in physical activity is low, especially for those living in less affluent areas (McPhee et al., 2016)
The Active Age programme is a programme developed by Age UK North Tyneside, which aims to increase and/or maintain physical activity of older adults who have previously led an active life but are at risk of becoming inactive due to a health change.
Age UK North Tyneside provides a tailored programme of advice, support and activities to help you stay active.
There are three main outcomes to be achieved through this project:
Increased levels of activity in those aged over 55
Improved physical and mental wellbeing of participants
Reduced isolation and loneliness amongst participants
As part of our project, we have worked closely with health professionals to identify people within our target audience and to promote the ActiveAge service.
Active Age has an open referral route with the majority of our customers coming from either health professionals or as self-referrals.
Once a referral is received Rob Meldrum, our ActiveAge Co-ordinator will discuss and identify a participant's ambitions, barriers and motivators.
Rob will work with each participant over a 3-6-month period, to support them to take control of their own health and create new healthy habits that are supportive to sustained activity.
Participants have said:
"Since I bumped into Age UK, they've given me a purpose. I know there's something over the horizon should we say. But I never had [something to look towards] until I came down to Age UK. I'm really appreciative of what they are trying to do"
"I do enjoy meeting people and I can't meet people if I am sitting in my own home"
"It's good, it's good for your mental health. Aye, it really helps. You're active, you are socialising all the time"
"I can sort of transfer some of the skills and the exercises that the teacher gives me to the home environment .I'm sort of more aware of what I should and shouldn't be doing as well and how to get on and off chairs and things properly and you know, safely. So I sort of follow that, sort of instruction at home"
"I think I'm probably more confident in walking, you know, balance and things"
"That's the thing about the Age UK instructor, she appreciates that you just do what you can she knows what you can and what you can't do"
"I find it quite challenging because I am not used to running around for like two hours. But like, I think I'm managing to build up my stamina now"
Instructors have said:
"To see how they grow in confidence, how their mobility improves, how their posture improves, it's just amazing"
"A lot of people in the classes, they can't even stand up from a seated position or they can't stand without using arm rests. To have the ability to be able to stand up or sit down, or even to use the toilet if you don't have that help, you know, it's a great thing"
"We do have, obviously people who are already very mobile and active and then we have really frail people who live very sedentary lives. Those ones are usually the ones where you can see the improvement the best"
"I had a lady very recently who was 90 years old and she requested a pair of dumb bells for her 90th birthday so that she could exercise at home"
To talk to us about improving your mobility and health by adding exercise and health habits to your lifestyle, contact Rob Tel: 0191 2808484 Option 1
Or
In conjunction with Sport England

More ideas to help you to get and keep fit