Driving away loneliness and isolation this Christmas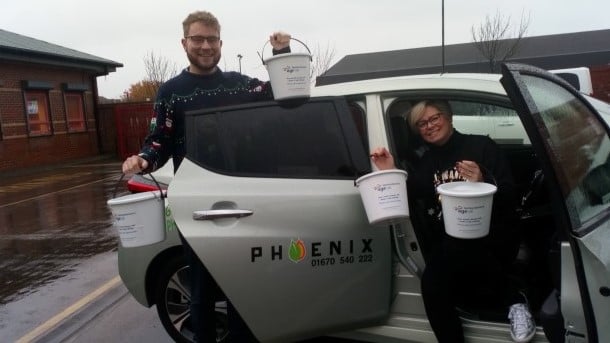 Phoenix Taxis has joined the drive to tackle loneliness and isolation in Northumberland
Blyth-based taxi firm, Phoenix Taxis, is teaming up with Age UK Northumberland to spread the word and raise funds to help older people live a better life in Northumberland this Christmastime.
The team at Phoenix Taxis will be taking on a range of challenges and fundraising activities over the festive period, including a sponsored relay walk /run spanning the length of Hadrian's Wall (73 miles), which will take place in the Age UK Northumberland gym in Ashington and Christmas Jumper days to raise awareness and vital funds to help towards the cost of running Age UK Northumberland's valuable Friendship Line.
Michael Carling, Business Manager at Phoenix Taxis, says:
"This is a great opportunity for us to support an important local charity and potentially help a lot of the customers who we regularly transport. We had no idea the range of services and support that Age UK Northumberland provides across the whole of the county and we'd particularly like to help fund the continuation of the Friendship Line, which provides a weekly call to people who are isolated and alone in our community."
Head of Charitable Services at Age UK Northumberland, Amy Whyte added:
"Christmas is a time when we look forward to spending time with family and friends, but for those who have no one a phone call can mean the world. Working together with Phoenix Taxis will help us to tell people about the help and support that we can provide to over 55 year olds and raise some much needed funds to help us continue our work in the future."
You can donate at https://www.justgiving.com/campaign/ageuknchristmasappeal
Age UK Northumberland is a local independent charity, working with the community to support older people, their families and carers. We provide services for older adults throughout Northumberland which include: information, advice, advocacy, personal care, exercise and falls prevention classes, befriending, lunch clubs and day centres.
For more information about the services and support available from Age UK Northumberland please call 01670 784 800, email us at info@ageuk-northumberland.org.uk or go to our website: https://www.ageuk.org.uk/northumberland