Getting your school involved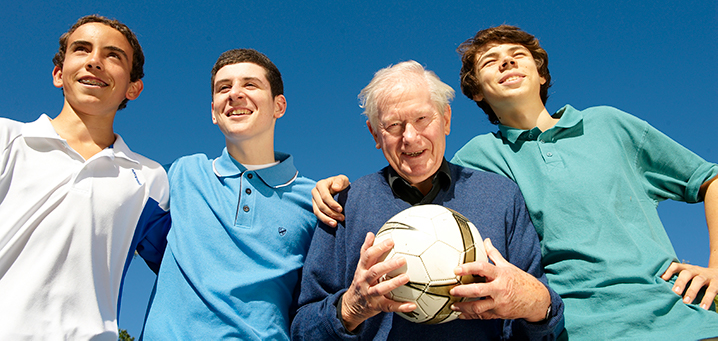 Here at Age UK Nottingham and Nottinghamshire we are passionate about intergenerational working. We believe that it is extremely important to raise the profile of age and the process of ageing from a young age.
Raising Awareness
There are many ways to raise funds and awareness of Age UK Nottingham and Nottinghamshire with your school. Our Fundraising team values the opportunity to come into schools and college to give talks and assemblies about the importance of our charity. It can be difficult for younger children to understand the difficulties that many people face as they grow older. We can tailor our talks in a way that younger children can relate to and understand the process of ageing, whether this be with the help of props or with the team putting on a performance of Gangsta Granny!
We understand that fundraising is not always the easiest way for schools to get involved with charitable work, so we really encourage outreach activities! If your school has a choir or talented group of students that can offer a form of fantastic entertainment at one of our events, we would love to hear from you! We were recently joined by Nottingham High Junior School's Chamber Choir who gave their time to sing Christmas Carol's to our older service users at a festive afternoon tea put on by The Walton Hotel. This was a great opportunity for…..
Fundraising
Our fundraising ethos here at Age UK Notts is to remove the 'd' and have 'fun' whilst 'raising' vital funds for our charity. You can get your school involved by choosing Age UK Notts as your charity of choice for the year and carrying out fundraising and outreach events throughout the year, or by holding a one-off fundraiser. For Fundraising ideas please see our School Fundraising Booklet or contact us at getinvolved@ageuknotts.org.uk
Why should you get your school involved?
It is a fantastic opportunity to help pupils develop their skills! Involvement in organising and delivering fundraising events and activities helps pupils to build the confidence and self-esteem, whilst also developing essential skills; leadership, team working, critical thinking, and a financial awareness. We think its really important to recognise pupil's fantastic achievements and award a certificate to the schools that get involved with Age UK Notts to thank you for your important work.
Fundraising also gives Head Teachers and other staff members a great opportunity to promote the fantastic work that their school is doing to give back to the local community. Not only this, but fundraising allows Head Teachers and members of staff to be positive role models for their students.