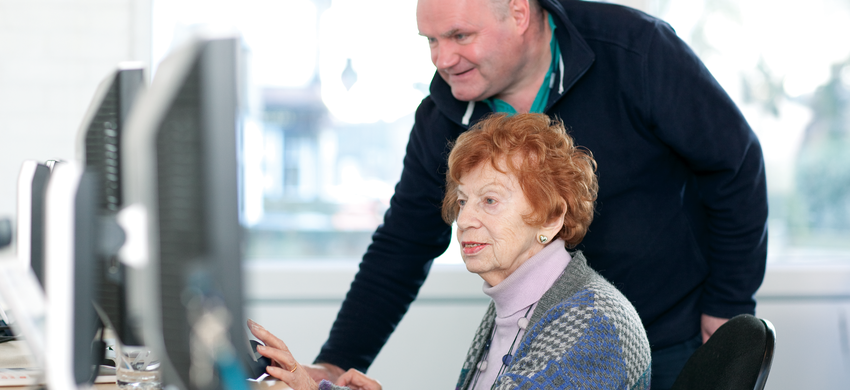 People of all ages and all walks of life volunteer for Age UK Nottingham & Nottinghamshire - and we couldn't do our vital work without them!
Do you want to help older people and give something back?
Our continued success depends upon your generosity to ensure that we can continue to provide a wide variety of services to help older people in our local community. By volunteering and sharing your time, skills, experience, talents, enthusiasm and energy you enable us to support local older people which we could not do without you.
You can make a huge difference to the lives of local older people...
Help them feel less lonely by offering either telephone befriending or face to face befriending
Help them maintain their independence by providing short term support at a time of vulnerability
Help improve their quality of life by ensuring that they are in receipt of everything they are entitled to and that they don't feel isolated or lonely
Help us provide excellent services to make sure that we can support as many local older people as possible
Age UK Notts will...
Provide you with Induction and appropriate training for your role – we even offer weekend Charity inductions
Give you ongoing support from a named member of staff so you always have someone to talk things through with
Reimburse you for out of pocket expenses so you are never out of pocket for getting to and from your volunteering
Offer you opportunities to encourage you to meet other volunteers and staff members
Work with you around what you can do, not what you can't so that you can volunteer as well as having a busy lifestyle
What our volunteers say about their experiences...
" I feel so privileged to have had the chance to make a positive difference to an local older person's life"
" Volunteering has given me the opportunity to gain valuable experience before going out into the world of work"
"I never thought that volunteering would be a challenge, but it's been brilliant to try something new, help Age UK Notts out and broaden my own skills at the same time – thank you!"
"I have experienced a real sense of achievement by visiting Mrs P and knowing that she really looks forward to me going every week"
"I used to just waste my Thursday evening, watching TV and now I have a purpose by visiting Mr C and I know that me supporting him when his family are unable to do so is really valuable – to us both!"
"I love being part of Age UK Notts. Everybody is so grateful for whatever contribution I make, no matter how small. They really value their volunteers"
If you would like to know more about volunteering at Age UK Notts, please email us.
Download our opportunities matrix
We produce a quarterly opportunities matrix with all the currently available roles
What else you can do to support us
Take part in a fundraiser

Could you help us to raise vital funds by taking part in a fundraising event? There are loads of fun and creative ways to raise money for Age UK Notts.

Get your colleagues involved

Could you talk to your colleagues or your employer about how you can support us? There are lots of ways organisations can get involved, including corporate volunteering, making us Charity of the Year, or donating equipment.