COVID-19 Update
The government has now lifted some of the restrictions which have affected the work of our charity over the past couple of years. We're pleased to let you know that our face to face services are now resuming and we're looking forward to seeing you.
You may still have worries about Covid and information is still available from https://www.gov.uk/coronavirus.
For all your concerns or worries about any topic, give our friendly staff a call on 0115 844 0011 or email us at info@ageuknotts.org.uk. We're here to help.
We offer a wide range of services* for older people and their carers, tailored to your individual needs and circumstances.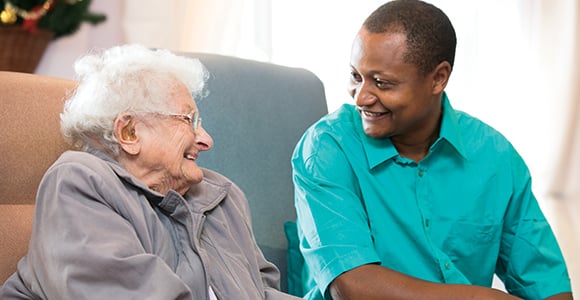 "Until contacting the Connect Team... I felt completely overwhelmed by the tasks required to help care and support my mother... Without [the Support Worker's] support I would not have accomplished so much, so quickly."
Are you struggling to enjoy your later life?
Age UK Notts' Health & Wellbeing service* can support you to find solutions that will help you to remain independent and get the most out of later life.
Whether it's housing, health, finance, loneliness or care needs, we can work with you.
Our staff and volunteers will put your needs, wishes & priorities at the centre of what they do. They will point you to local activities and services or, should you need it, they can work with you to put a plan in place to improve your life.
*Eligibility criteria may apply. To find out more, please give us a call on 0115 844 0011 to speak to a member of our team.
Our Connect team can help you put a plan in place to improve your life.

Providing companionship to lonely and isolated older people.

From Lunch Clubs to woodworking, chess to film clubs, we can help you access a range of activities provided by us and other organisations.
It's important to stay active to maintain your health and independence. Find out more about our services.

If you would like to brush up on your computer skills, our ClickSilver course will be right up your street!

Volunteering benefits others and yourself! Find out more about opportunities available in our charity.
Download our service guides
Download leaflets about all of our services
Specialist Area: Advice
You can contact our advisors about a wide range of issues. Give us a call and find out how we can help you!

Information, expert advice and support to maximise your income and get the most out of your money.
Through our Will Writing service, we will link you with a local solicitor who will be able to draw up a Will for you.

We have a wealth of resources to help you find the right service for you. Find out the resources we use, or give us a call and talk to our advisor.

Do you have a legal issue you would value advice on. Our Legal Advice service may be able to assist you.
Specialist Area: Advocacy
We are able to offer support to residents, and their families or carers, in care homes in a number of local areas. For more information on areas covered, click the link below.

We are able to offer support to patients in several local hospitals.
Specialist Area: Housing                                      Specialist Area: Business Directory
Supporting your safety, warmth and wellbeing.

AUBD can connect you with reputable businesses, from hairdressers to builders to solicitors.
Dementia Services
Our Sybil Levin Centre has been closed since March 2020 due to the COVID-19 pandemic. A SPECAL-led day service is scheduled to open in January 2022.
More details will be available soon. For more information, please download the Contented Dementia Brochure.