You've donated and we are grateful!
We've received numerous donations from many people throughout the past few months and every single penny has made a real difference. Thank you to everyone who sent in a cheque or donated online. Your donations have made it possible for us to help people when they felt most vulnerable and afraid. We've shopped, collected medication and made wellbeing telephone calls to isolated people. Your donations have helped make that possible. We're working hard to continue to provide services that matter to older people and donations always help us to deliver. If you're looking for a worthy cause to support, well…look no further!
Please note:
Group activities
Due to changing COVID-19 restrictions, some of our group activities, such as our Best Foot Forward walks, have restarted. We look forward to welcoming you back. Service details may continue to change. Please call 0115 844 0011 or check the website for the most up-to-date information.
Shops
Our Mansfield and West Bridgford shops are now open and we look forward to welcoming you back. Please help to keep our staff, volunteers, and other customers safe by continuing to wear your face mask over your nose and mouth while in our shop (unless exempt).
Head Office
Our Head Office is now permanently closed and we are currently in the process of relocating to another Nottingham City location. Please check back for further information.
We offer a wide range of services* for older people and their carers, tailored to your individual needs and circumstances.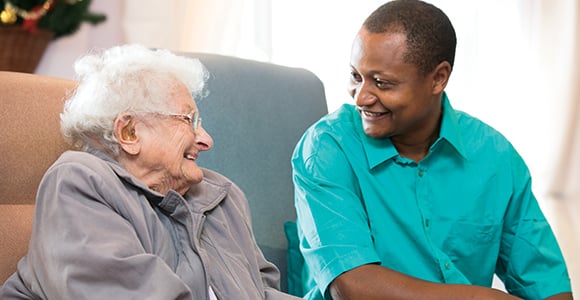 "Until contacting the Connect Team... I felt completely overwhelmed by the tasks required to help care and support my mother... Without [the Support Worker's] support I would not have accomplished so much, so quickly."
Are you struggling to enjoy your later life?
Age UK Notts' Health & Wellbeing service* can support you to find solutions that will help you to remain independent and get the most out of later life.
Whether it's housing, health, finance, loneliness or care needs, we can work with you.
Our staff and volunteers will put your needs, wishes & priorities at the centre of what they do. They will point you to local activities and services or, should you need it, they can work with you to put a plan in place to improve your life.
*Eligibility criteria may apply. To find out more, please give us a call on 0115 844 0011 to speak to a member of our team.
Our Connect team can help you put a plan in place to improve your life.

Providing companionship to lonely and isolated older people.

From Lunch Clubs to woodworking, chess to film clubs, we can help you access a range of activities provided by us and other organisations.
It's important to stay active to maintain your health and independence. Find out more about our services.

If you would like to brush up on your computer skills, our ClickSilver course will be right up your street!

Volunteering benefits others and yourself! Find out more about opportunities available in our charity.
Download our service guides
Download leaflets about all of our services
Specialist Area: Advice
You can contact our advisors about a wide range of issues. Give us a call and find out how we can help you!

Information, expert advice and support to maximise your income and get the most out of your money.
Through our Will Writing service, we will link you with a local solicitor who will be able to draw up a Will for you.

We have a wealth of resources to help you find the right service for you. Find out the resources we use, or give us a call and talk to our advisor.

Do you have a legal issue you would value advice on. Our Legal Advice service may be able to assist you.
Specialist Area: Advocacy
We are able to offer support to residents, and their families or carers, in care homes in a number of local areas. For more information on areas covered, click the link below.

We are able to offer support to patients in several local hospitals.
Specialist Area: Housing                                      Specialist Area: Business Directory
Supporting your safety, warmth and wellbeing.

AUBD can connect you with reputable businesses, from hairdressers to builders to solicitors.
Please note:
Our Sybil Levin Centre has been closed since March 2020 because of the Covid pandemic. We will be reopening the centre as soon as it is safe to do so and are working with the local authorities to ensure this can happen in a safe way.
In the meantime, our centre users continued to be supported by our Community Dementia Support worker. Our Sybil Levin Centre attendees are very much in our thoughts and we want to do everything we can to help them during this challenging time.
We will keep government guidance under review and, when safe to so for our members and our staff, we will re-open the centre.
Specialist Area: Dementia Support
We are able to offer day care and respite support at our Sybil Levin Health & Wellbeing Centre.

The Sybil Levin Health & Wellbeing Centre also offers bathing.