Supporting your safety, warmth and wellbeing through a range of services
Our specialist Safe & Sound team helps adults living across Nottinghamshire to stay safe and independent in their own homes.
We can provide:
Energy Checks for older people who are finding it difficult to keep their homes warm in winter. This includes advice and simple energy-saving measures to reduce fuel bills
Financial assistance for homeowners who cannot afford essential repairs, including boiler repairs (subject to eligibility)
Heater loans for people whose heating has broken and need short-term heater loan whilst their heating is fixed
Signposting to partner agencies to help people access the services they need.
Help and support related to energy efficiency in the home and central heating through the Warm Homes Hub
Services are subject to eligibility.
To find out more, with no obligation please give us a call during office hours on 0115 859 9260 or email safe&sound@ageuknotts.org.uk
"My health and wellbeing has definitely increased and I no longer have the fear of slipping or falling."
Typically over 98% of people are 'satisfied' or 'very satisfied' with the service they receive, and many would recommend a friend to have a Safe and Well Check.
Are you living in a cold home?
In Rushcliffe, Broxtowe and Bassetlaw we offer the Warm Homes on Prescription service, completing home surveys and providing access to free heating measures like new A-rated boilers and radiators for people with broken or faulty heating systems (subject to eligibility)
Warm Homes programme
Age UK will be carrying on its work supporting older people struggling during the colder months. The funding will help alleviate the effects of fuel poverty on older people, with Age UK Nottingham & Nottinghamshire relaunching its Warm Homes Programme in September 2020.
The Warm Homes Programme is now in its 10th year and it's needed more than ever to help older people affected by the COVID-19 pandemic to make their home more energy efficient, meaning they can stay warm this winter.
Last year the programme enabled Age UK to install over 19,000 energy efficient measures in more than 3,800 older people's homes, which helped keep their homes warm and their energy bills lower. Practical energy efficiency measures, such as radiator panels and draught proofing, were installed and are expected to save households almost £97,000 in total from annual fuel bills.
Older people in Nottinghamshire can have a free home energy check through Age UK Nottingham. The case worker will carry out a telephone assessment about the energy efficiency of a person's home, give tips on how to save energy and, where appropriate and abiding by Government rules on social distancing, install simple and practical energy efficiency measures such as draught proofing, low energy light bulbs and radiator reflector panels to help reduce energy bills.
It might seem early to start planning for the winter, but the coronavirus pandemic has made this year even tougher for older people, and it's vital that we can give as much support as possible to help people cope in the months ahead. The sooner you make changes the sooner you will reap the benefits, especially once the cold weather gets underway. That's why Age UK are encouraging anyone over the age of 65 in Nottingham to get in touch to find out how they can benefit from our energy efficiency services ahead of winter.
All referrals can be e mailed to safeandsound@ageuknotts.org.uk or by calling Lorraine Parchment on 0115 859 9260 or Olivia Corrigan on 0115 844 0011.
Home Improvement Agency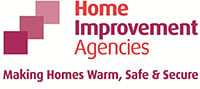 Age UK Notts' Home Improvement Agency is accredited by Foundations, the approved National Body in England for Home Improvement Agencies. Our service offers a high quality of workmanship by trustworthy traders and excellent customer service to ensure that you get the home improvement or adaptation that makes your home comfortable, warm and some where to be proud of.
If you have a home improvement or repair we can help with small to large scale works; from a simple re-wire to a new roof, a replacement boiler to brand new kitchen.
To find out more, with no obligation please give us a call during office hours on 0115 859 9260 or email safe&sound@ageuknotts.org.uk