Please note:
Group activities
Due to changing COVID-19 restrictions, some of our group activities, such as our Best Foot Forward walks, have restarted. We look forward to welcoming you back. Service details may continue to change. Please call 0115 844 0011 or check the website for the most up-to-date information.
Shops
Our Mansfield and West Bridgford shops are now open and we look forward to welcoming you back. Please help to keep our staff, volunteers, and other customers safe by continuing to wear your face mask over your nose and mouth while in our shop (unless exempt).
Head Office
Our Head Office is now permanently closed and we are currently in the process of relocating to another Nottingham City location. Please check back for further information.
Would you benefit from free, impartial, independent, and confidential information or advice to help you or a loved one enjoy later life?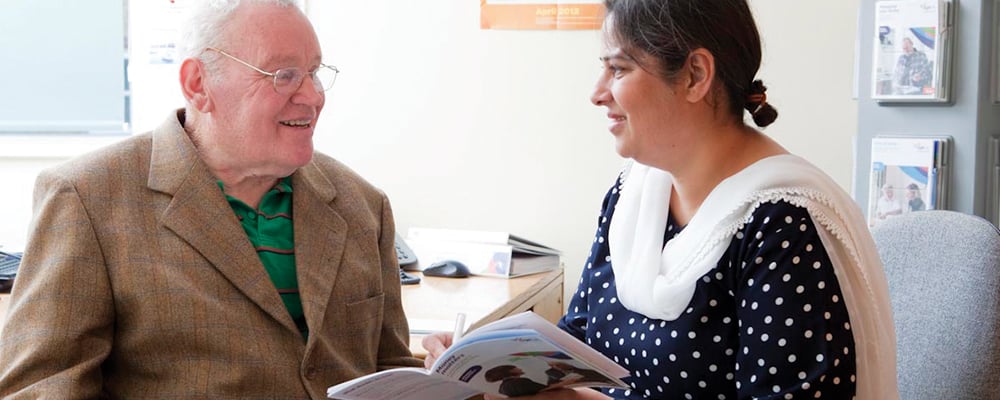 Whatever your question, please give us a call. If we can't help you, we will connect you to someone who can.
Information, expert advice and support to maximise your income and get the most out of your money

Professional initial advice via a local solicitor on a range of legal matters
Accessing local information
We can also help you to find other local services and organisations
Free booklets and online information
Age UK produces free information guides and factsheets on a wide range of topics, including home adaptations, dementia, and advice for carers. You can find a complete list of guides and factsheets on the Age UK national website.

If you prefer to read information online, the Age UK national website has information and advice on many topics, including how to find a care home, how to avoid scams, and Power of Attorney.