The amazing Age of Grace Dance Group perform 'This is Me'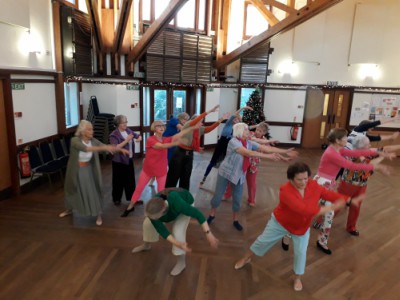 Published on 02 January 2019 03:41 PM
The Strictly Come Dancing series enjoyed by many across generations, has inspired millions of people across the UK to 'keep dancing', or to take up the pursuit for the first time. Whilst the TV show tends to be dominated by young, athletic professionals and celebrities, however, anyone who attends one of the many thousands of dance classes which take place around the country every week will know that most dancers are just ordinary people who simply enjoy the exercise and social scene their hobby provides.
Dancing is particularly popular amongst older people, with its health benefits and the opportunities it presents to meet up with old friends and make new ones making a perfect combination.
Research has found that dancing improves strength and muscle function in older adults, as well as increasing balance and flexibility, leading to better stability and fewer injuries. It can also improve your cardiovascular health, which will decrease your chances of developing heart disease.
It's never too late to dance, as demonstrated by the amazing Age Of Grace Dance Group which meet regularly at our Age UK Richmond Twickenham Wellbeing Centre. If you are over 50 and enjoy dancing, or would like to give it a go, why not join our weekly dance group? See the Age of Grace perform to the beautiful 'This is Me' (from The Greatest Showman) and you might just be inspired to join us!
New members are always welcome, contact Janet at the Twickenham Wellbeing Centre on 020 8538 9254 or email janet.thompson@ageukrichmond.org.uk for more information.