Everyone Has a Story
Published on 26 August 2021 08:20 AM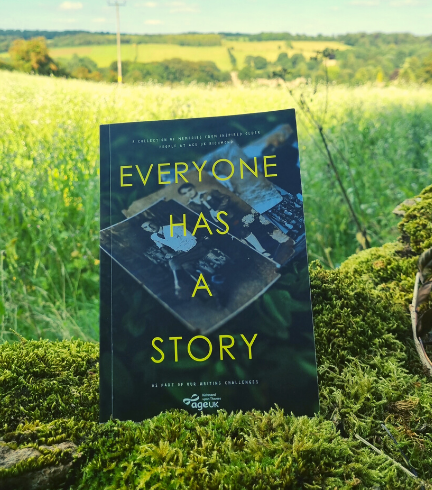 We are extremely excited to announce that over the past months we have been working on a special book, Everyone Has a Story - A collection of memories from inspired older people at Age UK Richmond.
Everyone Has a Story is a collection of personal memories as part of our Writing Challenges, an initiative born during the pandemic. With many people housebound and little in the way of excitement around, we suggested people think back over their lives, chose a moment to write about and then send it to us.
We were so impressed and entertained by the entries we received that we wanted to gather them in a book and share them with everyone, giving older people a platform to express their talent and have their special memories shared.
40 people gave us permission to publish their personal stories, a once in a lifetime opportunity. Our contributors, from 55 to 99 years of age, will take you on a journey that evokes nostalgia, joy, heartache and humour.
"A beautiful, highly evocative piece describing a moment in history that so many cannot image now" – Reader's comment.
"The sheer chutzpah of this memory made me laugh" – Reader's comment.

"Thank you for the chance to tell our stories" – Contributor's comment.
"This is the first time I have shown my writing to anyone outside my immediate family" – Contributor's comment.
We have printed a limited number of books for the 1st edition, 200 copies only. You can purchase a copy of the book for £5 each by emailing mt.keegan@ageukrichmond.org.uk.
We would like to thank all the people who took the time to write their stories and share their memories with us. With gratitude also to our editorial and production team - Marie Therese Keegan, Aydee Burke, Natalie Pettenden and Ebru Ozsavasce and our challenges judges - Charlotte Cornish, Rob Burton and Jane Cloete.
Your kind support will fuel projects which contribute to older people in Richmond upon Thames living healthier, happier more independent later lives.

Disclaimer: The opinions, beliefs and viewpoints expressed belong to the individual contributors and do not necessarily reflect those of Age UK Richmond.
Copyright Age UK Richmond 2021