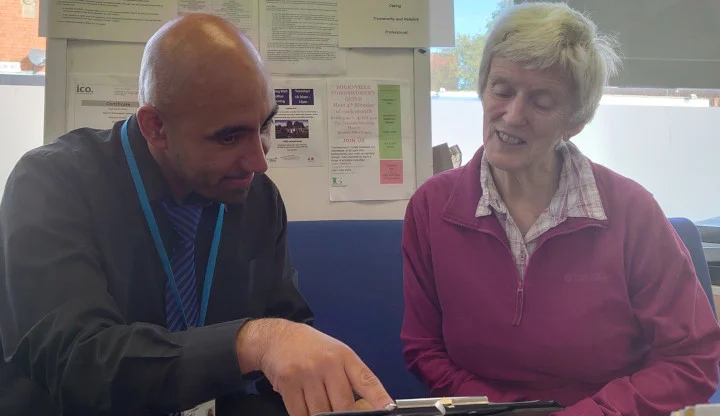 Wesley Methodist Church
High Street
West Bromwich
B70 8ND
United Kingdom
Age UK Sandwell offers a free and confidential information and advice service for people aged 50 and over, their families and carers.
About the Information & Advice Service
Our team of dedicated staff and volunteers provide free, confidential and independant information on a wide range of subjects including:

* Welfare benefits
* Consumer problems and rights
* Housing options
* Health
* Care at home
* Residential care
* Family and personal matters
* Accessing local services
* We can help complete forms (e.g. Benefits, Blue Badges, Housing/Council Tax Support, etc.), make telephone calls and write letters if needed.

If we are unable to help you, we will put you in touch with someone who can.
Appointments
All forms such as those for Attendence Allowance (AA), Personal Independence Payment (PIP), DLA and any other benefit, Blue Badge or support forms are completed by appointment only.
Accessing the service
You can contact our Information and Advice service in a number of ways.

• In person:
Our drop in service is open Mondays (except Bank Holidays) 10 am - 1 pm at:
Wesley Church,
291 High Street,
West Bromwich,
B70 8ND

Pre-booked appointments are available for the following locations, (contact us as detailed above to discuss):
• Kenrick Centre (Harborne, B'ham) - Tuesdays 9:30am - 3:30pm
• Oscott Community Centre (Great Barr, B'ham) - Wednesdays 9:30am - 3:30pm
• Stratford House, Stratford Place, Birmingham B12 0HT - Monday to Friday 9:30am - 3:30pm


• By phone: 0121 437 0479
(or 0121 437 0033 for the general enquiry line)

• By email:info@ageuksandwell.org.uk

• Home visits are also available, by appointment, for housebound clients only.

Please do keep an eye on our Facebook page and Twitter feed for any minor changes to opening times or operational disruption:

Click below for our Facebook Page:
https://www.facebook.com/AgeUKSandwell/
Click below for our X (formerly Twitter) Account:
https://twitter.com/ageuksandwell?lang=en
General Information and Advice Opening Times:
Our phone line is open Monday to Friday, 9:30am to 3:30pm - 0121 437 0479

Please note that the Information & Advice service does not open on bank holidays. If you wish to use the drop in service it may be advisable to call us before making a special journey to check availability.
Doorstep scams
There has been a rise in unauthorised doorstep selling and other doorstep scams in the area. Check out the information guide at the Age UK (national) website for tips on protecting yourself:
https://www.ageuk.org.uk/information-advice/money-legal/scams-fraud/doorstep-scams/
One first step could be putting a sign in your window - you can download one to print out from West Midlands Police here:
https://www.west-midlands.police.uk/_flysystem/public-sync/inline-files/NW060420%20no%20cold%20callers%20poster_Layout%201.pdf
Read our info guides
Age UK produces free information guides and factsheets on a wide range of topics, including home adaptations, dementia, and advice for carers. You can find a complete list of guides and factsheets on the Age UK national website.
https://www.ageuk.org.uk/services/information-advice/guides-and-factsheets/
Find information online
If you prefer to read information online, the Age UK national website has information and advice on many topics that apply across the country, including how to find a care home, how to avoid scams, and Power of Attorney.