Age UK Sandwell offers a free and confidential information and advice service for older people, their families and carers.
This is a core service for the organisation and provides a drop-in facility for older people, relatives and carers in various locations across Sandwell. We offer specialist advice on issues of interest and information about services, benefits and support groups, either by visiting one of the drop in sessions or by telephone.
Sorry NO drop in sessions available at the main office site.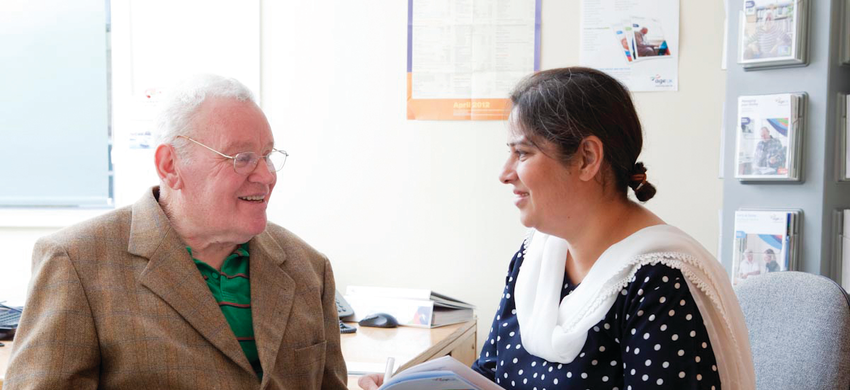 We provide:
Advice surgeries on a regular basis throughout the Borough.
Home visits to provide information and assistance with forms for the housebound.
Our Benefits Adviser, John Perks can call in to your home and help you to complete the many and varied forms to claim benefits such as Attendance Allowance, Carers Allowance etc.
Information also available on care homes & nursing care, legal assistance, transport, consumer issues, disabilities and local health services.
Information & Advice Staff:
Our Information & Advice Manager is Gary Overton
You can contact Gary on 0121 314 4526 or visit him at one of the venues across Sandwell.
Please telephone for further details.
Sorry NO drop in sessions available at the main office site
Opening times:
Our information and advice officers are available Monday to Thursday, 9.30am to 4.30pm.
Topics we cover:
Our advisers are trained to help you on the following topics.
Social care - such as finding a care home or getting some help at home, and how it's funded.
Your income - including free benefits checks, help with applying for benefits and pension advice.
Your home - information on staying warm at home, home adapatations and how to prevent falls.
Legal issues - such as wills, Power of Attorney, and how to deal with an estate.
Please Note:
'Age UK Sandwell are not authorised under the Financial Services and Markets Act 2000 to give clients financial advice. Our advisers can give you a basic outline of the principles of personal pensions and explain some of the common terms. Our advisers cannot advise you which pension scheme to choose or how to deal with a specific issue. If a client wants financial advice in connection with a personal pension, they would need to seek the assistance of an independent financial adviser'
Free booklets and online information
Age UK produces free information guides and factsheets on a wide range of topics, including home adaptations, dementia, and advice for carers. You can find a complete list of guides and factsheets on the Age UK national website.

If you prefer to read information online, the Age UK national website has information and advice on many topics, including how to find a care home, how to avoid scams, and Power of Attorney.