Our 131 Club is a great place to meet people, eat a home cooked two-course meal, get involved in fun and interesting activities, its run by a great staff and volunteer team who really care about older people.
We do everything from arts and crafts, sing-alongs to all your favourite tunes, chair football, quizzes, games, good old karaoke and we always start the day with tea and toast.
This is what some of our customers say about our 131 Club
"It's nice to have some company at meal times."
"I absolutely love spending the day with Age UK it's so nice and I really enjoy the company."
"I love that you can choose what you want to eat."
"There are lots of activities and I love the watercolour art sessions."
Our Club can also make a great difference to the lives of families and carers, Stella whose husband comes to the club every week says, "The staff are wonderful I don't know what I'd do if I didn't get a bit of time to myself each week."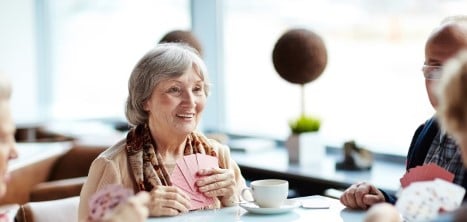 We want to make sure the 131 Club is right for you, so we'll meet with you, your family and carers first, listen to what it is you enjoy doing, what you like and how the Club can meet your needs, if you have health issues we'll talk to you about these so that we can make sure you get the most out of coming to 131 Club.
If you like what you hear, you'll get the chance to come to the club 1 day in the week for FREE and if you need it we can arrange your transport.
We've recently changed our club prices, we want to offer our customers the best value for money so our full day is now cheaper at £35 and our half day is £25 which includes transport as well as all the other great stuff.
The 131 Club is open:
Monday to Saturday 10.00am to 2.00pm (half day)
OR 10.00am to 5.00pm (full day, excluding Saturdays)
If you want to talk to us about the 131 Club give us a call on 0161 308 5000 or pop into 131 Katherine Street in Ashton.
Here's how you can get in touch with Age UK Tameside.
Our main office:
131 Katherine Street,
Ashton-under-Lyne,
OL6 7AW

Phone number: 0161 308 5000
Email: info@ageuktameside.com