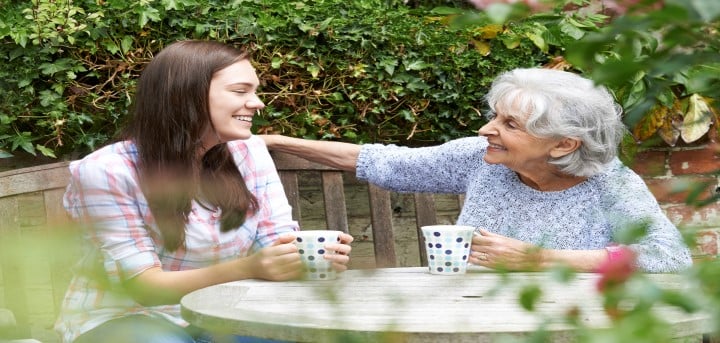 Please note, this service is not available outside Age UK Teesside - Head Office's catchment area.
Age UK Teesside
The Dorothy Rose Suites (29-32)
The T A D Centre
Ormesby Road
North Yorkshire
TS3 7SF
United Kingdom
If you are over the age of 65, have little or no contact from family and friends and live alone in Middlesbrough, Stockton or Redcar, help is available to you.
The Age UK Teesside Befriending Services provides a range of support to individuals who struggle to access social groups on their own.
Middlesbrough Befriending
The service offers support to those who live alone, are aged 65+ and have no/little networks, family and friends. We offer opportunities to engage with a trained volunteer who can visit them regularly in their own homes and assist with establishing (or re-establishing) social connections. For those clients who have been isolated for some time it's really important to promote positive ageing, improve access to services and to assist them in accessing appropriate information.

Our volunteers come from a range of backgrounds, experiences and ages, ensuring a diverse volunteer base as well as an impressive range of skills! We match volunteers to clients based on shared interests etc. and provide a safe and mutually beneficial relationship

The service is funded by Middlesbrough Borough Council as part of their response to the Government's proposal to improve care, support for older people and to tackle loneliness.

If you would like to find out more about befriending, volunteering and our service, please contact Paula Taylor on: 01642 433725

paula.taylor@ageukteesside.org.uk
Redcar Befriending
Are you aged 65+ and living in Redcar and Cleveland? Do you live alone, have little or no contact from family and friends and have difficulty accessing social groups? If yes, our free Befriending Service can arrange for a volunteer to:

Visit an older person in their own home
Have a friendly chat over a cup of tea / coffee
Offer friendship and a listening ear
Assist with small daily living tasks
Accompany clients on short walks, outings or to local social activity groups.
If you would like to make a referral to the Befriending Service or are interested in becoming a Befriending Volunteer, please contact:

Belinda Ealand, Befriending Co-ordinator on:
07834 181190 or 01642 063878

Client Quotes about Volunteer Befrienders
Mr L –'John's visits have kept me entertained. We've chatted about so much in recent weeks'

Mrs F – 'I sometimes can't be bothered to get out of bed. The day Carol visits is different'

Mr M – 'I'm getting out more since Malcolm has been visiting. I knew I could do it but I just didn't have the confidence.

Mrs M – 'Tracey is great. I've been out and about more and feel like my life has a bit more going on now. New company, chatting, popping out for a coffee – I really enjoy it.'
Stockton Befriending
Thanks to the support of Stockton-on-Tees Borough Council Better Care Fund, Age UK Teesside offer a free service in the borough which is helping to transform the lives of older people.

The Better Health Better Wealth initiative, for residents aged over 65, offers free:
 Welfare and benefits checks
 Support to access health and wellbeing services
 Social activities in local communities
 Friendship through our befriending service
 Social care referrals for homecare, aids and adaptions
 Referral to other agencies to meet other wellbeing needs.

For more information on Better Health Better Wealth contact the team on:

01642 805500 or 07921 464115
https://www.ageuk.org.uk/bp-assets/globalassets/teesside/original-blocks/our-services/befriending-referral-form.odt