Digital Inclusion Services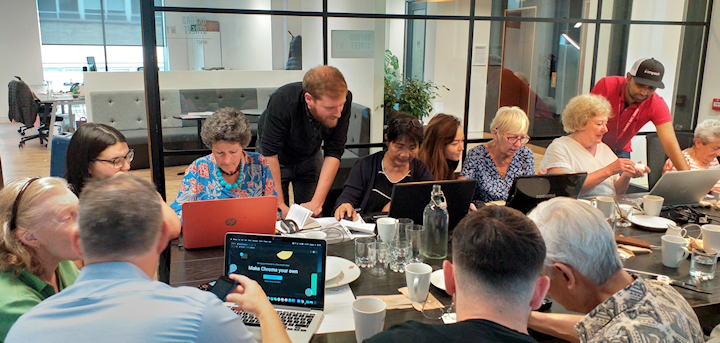 Age UK Westminster support older people who want to learn how to use their digital devices more effectively, by providing relaxed IT training drop-in sessions.
Digital Inclusion
Age UK Westminster can support Westminster residents aged 50+ build their confidence and knowledge using digital devices such as smartphones, tablets/iPads and laptops.
Age UK Westminster offers both group sessions (iTea parties - see below for more information on when and where) and 1:1 support. Some people learn through a combination of both.
Whether you want to connect online and access local services, do online shopping, learn how to use Zoom and join virtual activities, set up and use email addresses and WhatsApp accounts, connect to loved ones through video calls, Age UK Westminster's Digital Inclusion Service is here to help.
Becoming digitally connected can reduce feelings of isolation, loneliness and can improve physical and emotional wellbeing.
Digital Library
If you don't have access to a digital device, we can loan you one. Loans vary from 6 weeks but can be longer.
Digital Buddies
Following an assessment, we will match you to a trained digital buddy volunteer to provide 1:1 support and training through the loan period. We can also provide 1:1 support with learning how to use a device you own. At the end of the training we can support you to choose and buy your own device.
Digital Grant
If you have financial barriers to purchasing your own device or you can't afford data, we can help with a grant provided through Westminster Almshouses. This will be subject to a financial assessment.
For further details and to see whether you qualify please contact:
Email: enquiries@ageukwestminster.org.uk
Tel: 0203 004 5610
Monthly drop-in sessions
If you have your own device and are not sure how to get started, please join our monthly drop-in sessions.
Our IT Education sessions are for anyone aged 50+ to help them gain basic online skills and help with using the internet safely and with confidence. They can also support people with their own digital device, and we ask guests to bring along their own mobile phone, laptop, iPad, tablet etc.
Attendees will receive one-on-one tutoring with one of our volunteers who will help them with any questions and support them with trying out what they have learned on their own device.
iTea Parties
Marylebone Library
Thursdays - 26th May, 16th June & 14th July - 1.30pm-3.30pm Fortnightly
9-11 New Cavendish Street
W1G 9UQ
Church Street Library
Wednesdays - 25th May, 29th June & 27th July - 2.00pm-4.00pm - Monthly
67 Church Street
NW8 8EU
Paddington Library
Tuesdays - 21st June & 19th July - 11.00am-1.00pm - Monthly
Porchester Road
W2 5DU
Mayfair Library
Fridays - 24th June and 22nd July- 2.00pm-3.30pm - Monthly
25 South Audley Street
W1K 2PB
If you would like to attend any of the iTea parties, please contact Souad Abdellaoui on:
Tel: 07903 255384
Email: souad.abdellaoui@ageukwestminster.org.uk
Digital Support Volunteers
Would you like to help your local community get connected?
If you have 1-2 hours to spare and you like the sound of helping people learn new skills, why not become a Digital Support Volunteer in your local community?
You don't need to be an expert. We just need friendly people with great communication skills who enjoy using digital technology. You would be teaching clients the basics like how to send an email or surf the internet working in small groups or 1 to 1.
For more information:
email: volunteering@acwestminster.org.uk
Visit our Digital Support Volunteer web page to find out more
Free computer guides from Digital Unite

An extensive collection of learning guides about using modern technology created by Digital Unite, the digital learning experts. The easy-to-use guides are ideal for improving your own confidence and skills or for supporting other learners.
Topics covered:
Computer basics
Microsoft Office
Email & Skype
Using the internet
Health and Fitness
Internet security
Hobbies & interests
Music & audio
Smartphones & tablets
TV & video
Social networking & blogs
Digital photography
Government services, shopping & banking
Online collaboration tools & remote working