Digital Inclusion Services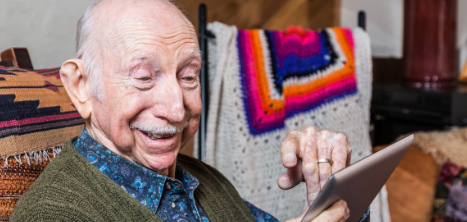 New Digital Library for Church St Ward
Computer classes
Age UK Westminster can support older people in Westminster build their confidence and knowledge using digital devices such as smartphones, tablets/Ipads and laptops. We have trained older people to connect online and access local services, do online shopping, learn how to use zoom and join virtual activities, set up and use email addresses and WhatsApp accounts, connect to loved ones through video calls. Becoming digitally connected can reduce feelings of isolation, loneliness and can improve physical and emotional wellbeing.
Computer Library
If you don't have access to a digital device, we can loan you one to learn on for up to six weeks.
Digital Buddies
Following an assessment, we will match you to a trained digital buddy volunteer to provide 1:1 support and training through the loan period. At this the end of the training we can support you to choose and buy your own device. If cost is an issue, we will help you look at affordable options.
Monthly drop-in sessions
If you have your own device and are not sure how to get started, please join our monthly drop-in sessions. These take place on the last Wednesday of every month at Church St Library from 12noon to 2pm. No appointment necessary.
Other locations around Westminster borough coming soon. You do not need to reserve a place at the drop-in session, just come along!
More information:
Call Esra on: 07399301938
Main Reception: 020 3004 5610(Monday - Friday 10:00am - 4:00pm)
iTea parties
Come along and receive assistance with your own digital device. Questions answered by one-to-one committed volunteers from McKinsey and Twitter.
More Information:
IT Education for Senior People web page
Email: souad.abdellaoui@ageukwestminster.org.uk
Call Souad on: 07903 255384
Digital Support Volunteers
Age UK Westminster is running digital inclusion sessions in Westminster to teach people IT basics such as online shopping and creating an email address, to help our older community members to connect online, access local services, and connect to loved ones. Digital inclusion will help to reduce participant's feelings of isolation, loneliness, and will improve physical and emotional wellbeing. Each participant is paired with a digital buddy to train them and support them throughout the 6 week loan period.
Would you like to help your local community get connected?
If you have 1-2 hours to spare and you like the sound of helping people learn new skills, why not become a Digital Support Volunteer in your local community?
We're looking for volunteers to support our digitally excluded clients, can you help?
You don't need to be an expert. We just need friendly people with great communication skills who enjoy using digital technology. You would be teaching clients the basics like how to send an email or surf the internet working in small groups or 1 to 1 once COVID restrictions are lifted.
More information:
email: volunteering@acwestminster.org.uk
Digital Support Volunteer web page